Throughout history, many of the greatest battles have been fought with intense physical fury. While wars and other conflicts between nations have resulted in hard fought, yet often costly victories, there have been plenty of other notable confrontations that have achieved a place not only in the history books but also in popular culture. Many of them have been fought in some of the most memorable contests in sports history, while others have taken place within the confines of the pages of popular comic books, movies and TV series.
Yet, some of history's greatest battles are fought not with fists or weapons, but with words. Nowhere is that more evident than in the courtroom, where some of the biggest haymakers have been thrown and landed by dozens of brilliant legal minds throughout some of the biggest and most controversial court cases in history. However, have you ever wondered just what it would be like if someone like Superman, Wonder Woman or just about any other notable figure (real or fictional) took on his or her adversary not with brawn, but with brains – specifically, speech and the ability to argue and persuade through it?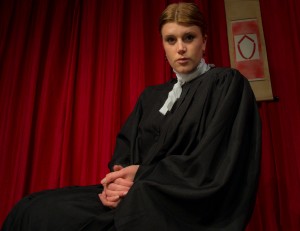 Created and written by Arik Sternberg, and streaming its first five pilot episodes on its official web site and Vimeo pages, the new comedy web series THE COURT SUPREME features many such scenarios that not only entertain and captivate audiences but also bring to life through its own hilarious characters all those "what if" questions that pop culture fans and observers of history have asked themselves seemingly forever. It's a series that's got no fancy special effects, no fighting and no violence. What it does have, though, is confrontation on a much higher level; battles fought through argumentation and persuasion by the litigants who pass through its chambers in each hilarious case heard before the court.
The series' cast is led by Dana May and Greg Delmage, who both portray the ruthless, cold and calculating prosecutor Sword. Opposite Sword is the equally cunning defense attorney Shield (Andrea Ware, and also Scott Seol), who may try to advocate for the clients in the courtroom but proves to have a real sense of disdain for them outside of it. Sacha M. Romalo and Nancy Von Euw alternate as the court's all powerful judge/eye that attempts to mediate between the accuser and the accused – and dishes out justice in one way or another.
The litigants in each episode are played by a great cast of talent including actor/model Michael Aaron Cheng, who portrays the mysterious Traveler (in "The Traveler vs. The North-Wind and The Sun") and the samurai warrior defendant Canada-Katana (in the episode "Middle Kingdom vs. Canada-Katana"), and Darren Andrichuk as the delusional plaintiff Zeus ("Zeus vs. The Skeptic Squad").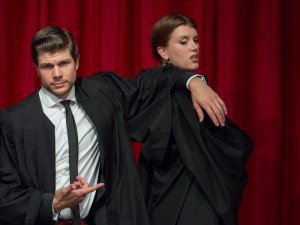 A native of Israel who moved to Canada to take advantage of the country's burgeoning film and TV industry, Sternberg was inspired by many movies and TV series that memorably depicted great figures throughout world history, plus his fascination with the world of language and rhetoric, to create THE COURT SUPREME. As he recalls, though, the concept for what would become his web series was years in the making.
"The idea for the show grew out of one of many stories I published online on my first short stories website in 1997 in Israel. Let's just say that at its core, that story dealt with the problem that the universe is unordered, and so, needs someone to guide it, which is where THE COURT SUPREME comes from. And as I see no real difference between the insights we get from real life people or from fictional characters, I was inspired to combine the real and fictional worlds into one arena of arguments and see what happens," he says. "As I immigrated to Canada in 2010, one of my reasons to do so was the amazing potential I saw in Vancouver's myriad content industries, and so, in 2013, when I saved enough to take a break and write for a few months, I did so, and that's when the actual production started."
After spending several months writing 14 episodes of what would eventually become THE COURT SUPREME, Sternberg set about the task of finding the actors who would bring it to life. Although he was clearly a fish out of water upon his arrival in the Great White North, with very little knowledge of anyone who could help him realize his dream of bringing THE COURT SUPREME to life, he turned to the next best thing when it came to finding the show's talented core ensemble of actors – the web.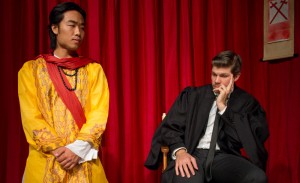 Recalls Sternberg: "I mostly used Craigslist and VancouverActorsGuide.com  to discover the best non-union actors I could find for my show. I auditioned them first on Skype, and then tested the most promising performers in a group reading setting. So out of about a 100 online audition, I found my core 6 actors to play the main courtroom principles, and the rest of the characters on trial as well. As you can see from the show, I either got very lucky or choose very correctly."
For any web series creator who's just starting out, the production process always has a steep learning curve and very rarely comes without difficulties. Such was the case with THE COURT SUPREME, and although the rough spots would eventually be worked out over time, Sternberg learned a lot throughout the filming of each episode thanks to the dedication and talent of his cast and crew – and he also learned a valuable lesson about the cost of on the job training.
"It (the production process) was more beneficial than I expected, since I not only got to experience the entire production process from the ground up, but because of all the insights I got from it for the next round of higher level production – the main one being: I am a director by deed – but not by design, so next time – better get someone better to do it," he says.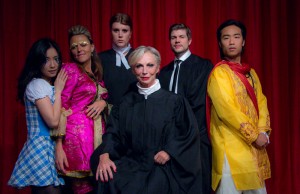 Many popular, albeit well worn archetypes seen in legal dramas, plus those in popular comics, movies, TV series and video games are humorously depicted through the show's characters in each episode of the series.
However, while most legal movies/TV shows depict life inside and outside of the halls of justice, with extensively developed characters and situations, THE COURT SUPREME is different from many courtroom comedies/dramas in two key respects – the characters and its sole emphasis on the fireworks inside the courtroom.
"I choose not to give any of them (the characters) a real rounded personality, since I suspect that I'm not that of a good writer yet, but also because from a production standpoint, I didn't need to show their life outside of the courtroom. I just wanted to see and hear the good stuff – aka- the arguments! And if I could use familiar tropes and stereotypes to fill in the missing personality parts, then I should do so," Sternberg says.
Along with an emphasis on episodic storytelling that makes THE COURT SUPREME even more inviting to viewers, another key aspect of the series is its focus on pop culture and history. As a result, many of the episodes also take a page from current events. "…It (the series) deals with stereotypes and issues from history, literature and pop-culture, all of which are constantly growing and evolving, so there would never be a lack of material and characters to explore. Which also means that it is advertiser friendly. As I come from the advertising/marketing industry and love brands, and since we all perceive brands as we do other personalities around us, then I thought to myself – what could be better than to actually personify a brand as a character, and put him/her on trial? Which is what directly inspired the NIGHTMAN Vs. NIGHTINGALE episode. I mean, how could you not be moved to write a legal satire when you read that Apple is suing everyone for using their trademarked Rounded Corner? Seriously?"
Furthermore, THE COURT SUPREME has provided Sternberg with ample opportunities for crossover compliance between other existing web series, podcasts and their creators; people he counts as among his major creative inspirations. "For example, the first episode I've written has Marc Maron of the WTF podcast been sued by Mephistopheles for reneging on their soul-for-fame contract. Or my need to put the newly revived Captain Canuck on trial against my own Canada-Katana superhero. Or putting those Lazy Space Janitors on trial. I mean, a janitors union? On a Star Destroyer? Come on!"
Described by Sternberg as JUDGE JUDY meets Fantasy Football, THE COURT SUPREME brings viewers a hilarious courtroom web series that will not only make them laugh, but will also fulfill a personal goal that he vowed to achieved since the beginning of last year: "Last year, on my New Year resolution note I wrote to myself, 'create a web series that will make people smile', and that has been, and still is the main goal for it," he says.
With THE COURT SUPREME, Sternberg is well on his way to achieving that goal with a series that proves the best and most dramatic battles aren't necessarily those that result in fisticuffs. "If there is a message to this show, then it's: Everyone can and should have a lot of fun arguing about what's important to them. Not debate it – but argue! With lots of drama – and drink some wine while you're doing it – it's great! And If I was to try and place it in any genre, then Speech-spolation is the closest thing that comes to mind. More wine anyone?"
(Note: The series' 5 pilot episodes are not currently closed-captioned or subtitled, but Sternberg says they will be once the show is fully put into production.)
ON THE WEB: www.thesupreme.tv
VIMEO: https://vimeo.com/thecourtsupreme
FACEBOOK: https://www.facebook.com/TheCourtSupreme
TWITTER: https://twitter.com/Arik_Sternberg