For decades, many popular comic books, movies and TV series have featured strong, intelligent, muscular and powerful males as the typical prototype for an avenging superhero out to save the world from the bad guys. Yet, there have also been many female superheroes who not only possess strength and power but also beauty and brains. Nowhere is that diversity more evident than in web series like SUPER KNOCKED UP and JUSTICE WOMAN, among others.
However, there are other notable shows like PLATOON OF POWER SQUADRON that feature superheroes who in many ways are just like us common folk; characters who may have the power to save humanity, but also face the same daily struggles as the rest of us. Now, a new fantasy/adventure series brings viewers a distinctive mix of action, suspense, thrills and humor combined with diverse, and relatable, female characters whose once ordinary lives are forever changed by the new superpowers they possess.
Set to premiere its initial season of 7 episodes sometime between the end of 2014 and the beginning of 2015, the new web series SISTERS OF MERCY was created by the talented team of Toronto-based production company Farmer Vision: Meghan Armstrong, Cameron Maitland, Lindsay Bradford-Ewart and Nicholas Bradford-Ewart. It's a superhero series that's unlike any ever produced for the web, and, as Lindsay Bradford-Ewart says, for many important reasons: "The show is sometimes ridiculous and sometimes dead serious, (and) SISTERS OF MERCY applies a feminist lens to the superhero genre. It's about complicated and complex women characters, women working together, women making jokes – and, it's starring two women of color!"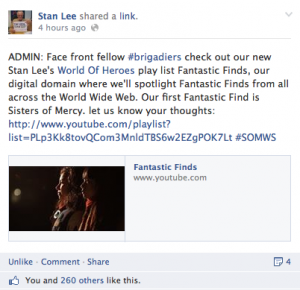 The show's promotional trailer is now streaming on its official Youtube page, though the series' official cast has yet to be announced.
On the day this piece was written (March 18th), SISTERS OF MERCY received an incredible boost through its recognition by the legendary maven of Marvel Comics, Stan Lee via his official Facebook page.
SISTERS OF MERCY's trailer is the first in Lee's latest video playlist for his World Of Heroes Youtube channel: "Fantastic Finds", which features the newest and most exciting episodic content for fans of the superhero genre.
SISTERS OF MERCY is currently seeking funding through Canada's IPF (Independent Production Fund), which supports the production of web series filmed and produced there. Armstrong, Maitland, Lindsay and Nicholas Bradford-Ewart hope to achieve that funding so that they can bring the series to the screen: "With an application that we have submitted, we are hoping to receive partial funding through this avenue. Funding from the IPF is influenced in part by audience support for the project and so, the more audience interest shown in seeing this project funded (specifically Youtube likes, views, and comments) the more likely it is to be made with the help of the IPF," Armstrong says.
SISTERS OF MERCY follows the lives of two teenage sisters: 19 year old Simone Reeve, a tough, hard working but caring young woman who's struggling to make ends meet in the male dominated plumbing field and to care for her younger sister, 16 year old Jules. Both of their lives have been affected by the sudden death of their mother, but perhaps none more so than Simone, who now reluctantly finds herself in the role of both sister and surrogate mother to the smart, yet often rebellious and self-centered Jules. Further complicating both of their lives is their father, who has become distant and aloof in the years since their mother's passing.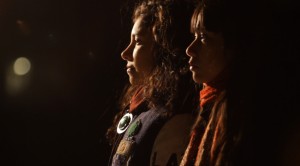 Primarily inspired by the loss of her mother, Jules has been driven to become the first to achieve what would be a major breakthrough – the first scientifically proven contact with the deceased. However, it's a quest that soon reveals itself to be driven by Jules' ulterior motive – to achieve worldwide fame and fortune for a discovery that has yet to be made or even tried. While Simone and Jules have the typical struggles that one can find among siblings, there's one thing that sets them apart from everyone else.
They're blessed with extraordinary superpowers that make them both unique and vulnerable. Jules has the ability to control time, while Simone with the power to move inanimate objects and entire spaces at will. Together, they must learn not only how to use those powers but to survive and to work together with them for not only the survival of the world – but theirs as well.
For Armstrong and her team at Farmer Vision, the creative atmosphere of their workplace and the group's collective talents provided the perfect opportunity for the creation and development of SISTERS OF MERCY. "The four of us work in a really small office in Toronto, Canada with many creative and commercial projects on the go at once. It is in this environment where there is a constant cross-pollination of ideas that SISTERS OF MERCY was born," she says.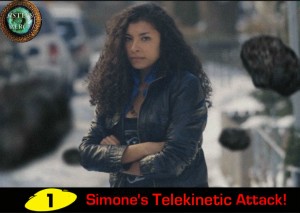 However, she adds, the concept that would eventually become the story of two sisters who suddenly find their lives changed by incredible superpowers had a rough journey towards its completion. "A year ago Cameron had another idea for another superhero web series that didn't happen. Soon after that he started developing a sci-fi short film anthology called ALL THAT YOU WERE PROMISED which is curated from character-driven pieces about alternative visions of our future, focusing on a vision of the future provided by Female, Queer and Ethnically diverse writers and artists."
With female characters who are known just as much for their brains as their beauty and incredible powers, SISTERS OF MERCY hopes to carry on in the tradition and standard set by several popular TV series, comic books and movies that have inspired Armstrong and her production team to create their series. The show's extensive casting process, held in Toronto, both attracted a high amount of the city's best talent and further exemplified just what Armstrong was looking for when it came to finding actors to portray the show's protagonists.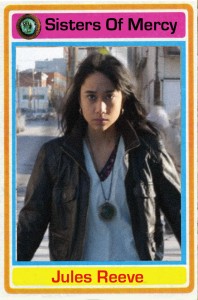 "To elaborate on the casting process, as a part of the overall production process: We have done casting many times before for many short films and documentary projects. There was a noticeable difference with the SISTERS OF MERCY web series project in that we had a significantly higher number of actors interested in auditioning for us and once the actors who came for an audition were in the room, there was a palpable enthusiasm. The women auditioning for us were excited to read for a lead role that involved intelligence, humor and ass-kicking," she says.
That process also brought out the best in each hopeful who auditioned for the show's two main roles, and the overall mission of SISTERS OF MERCY was perhaps the biggest reason why. "Many (actresses who auditioned) stated characters like Buffy the Vampire Slayer (the series is an inspiration for us), and the female X-Men characters as having been positive role models for them growing up. They were eager to participate in something of that ilk. We knew what they meant. Our goal is to elaborate on these ideas: women whose stories can be the central one of a show, women moving in the world with agency. And so, from the start, as soon as we started to involve others in the series creation, there has been a real positive feedback loop that has magnified in scale as the project develops," Armstrong adds.
Along with bringing viewers female characters who both kick ass and also deal with some of life's toughest problems, SISTERS OF MERCY promises to have something for everyone. "Our focus is on teens as it's a show about two teen sisters but our hope is that the writing and the thematic content will have wide appeal. Our web series is campy and funny like BUFFY and SUPERNATURAL and spooky and mysterious like the X-FILES," she says.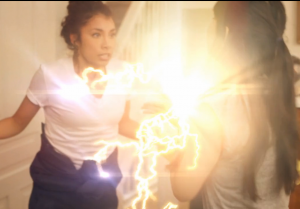 Perhaps the most important thing that sets SISTERS OF MERCY apart from many web series of its kind is its unique mix of comedy, suspense and adventure combined with characters who are both relatable and who face many of the same problems we do.
"SISTERS OF MERCY is a superhero web series—so that places it among others that are generally comedy focused. While our show has elements of humor and even whimsy like BUFFY or The X-FILES sometimes did, we have placed our characters in the very real neighborhood of Parkdale in Toronto, Canada where they are living with a single and off-the-wagon father below the poverty line. Jules and Simone have malevolent inter-dimensional beings and power hungry science professors coming at them but they are also struggling to keep their family together, a roof over their heads and to figure out how to buy dinner, issues which many people can relate to," Armstrong says.
As any fan of superhero comics, movies, TV shows and even web series knows, with great power comes great responsibility. It's a lesson that Jules and Simone learn first hand in each episode of SISTERS OF MERCY, and as Armstrong says, the challenge of using that power for good is even greater given the atmosphere the two siblings find themselves in.
"With SISTERS OF MERCY, we are trying to a tell an exciting, intellectually engaging superhero show with all the fantastical things that can happen in a fantasy/sci-fi world AND tell the story of two women of color who find themselves there. Jules, Simone and other characters in the show are based on women in our lives whose stories are not typically featured in mainstream media but whose stories and perspectives we know to be interesting. This show is about coming together in the pursuit of one's goal as opposed to taking sides or going one's own way."
(Note: The series will be closed-captioned, according to Armstrong.)
For the series' official Youtube trailer, visit:
ON THE WEB (Farmer Vision): www.farmervision.ca
YOUTUBE: https://www.youtube.com/user/FarmerVisionMedia
FACEBOOK: www.facebook.com/FarmerVision
TWITTER: @Farmer_Vision