Web series production has been booming throughout not just the United States but also the world. One of the biggest hubs for that output has been South Florida and its surrounding areas, including one of America's biggest and most popular cities – Miami. With shows like the comedies KING OF FITNESS, MORNINGWOOD, ORTHO AND HIS REMOTE, and the upcoming supernatural suspense series TWEET (all of which have been previously covered here), South Florida has quickly earned a reputation as one of this country's most prolific and productive outposts for the production of original content for the web.
Just as web series have become one of the most popular forms of original entertainment, there have also been countless festivals devoted to them. From LA WebFest and Hollyweb in Los Angeles, to the New York Web Television Festival, to other events in Vancouver, London, Rome, Marseille and all points in between, these festivals have provided web series creators the chance to not only have their shows presented to audiences, but to network with and learn from their peers throughout the industry.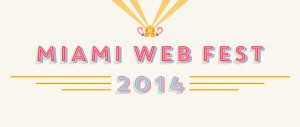 Now, a new event, the Miami Web Fest, adds to the list of important and prestigious events that will both honor and benefit web series creators and their work in exciting ways, as well as exposing their web series to new audiences and key industry figures. As of March 1st, submissions for entries in all categories are now being accepted, with the final deadline on August 15th.
Early registration costs $45, regular registration (as of May 1st) runs $65, and late registration (as of July 1st) is $80. Further information on venues for screenings and panels to be held throughout the Miami area, plus additional details on how to submit your web series, will be announced on May 1st. Official selections will be announced on September 1st.
Recently, I had a chance to speak with Miami Web Fest's executive director Bryan Thompson, where he discusses how the event will impact both creators of original web content and how it stands out from many of the other similar events held throughout the year. Links to the event's official web site, Facebook and Twitter pages are at the end of this article.
What is the overall mission of Miami Web Fest? 
The mission of the MWF is to be the ideal exposition for web series' throughout the world, offering web series creators a number of unique and interesting networking and exposure opportunities.
When and where will it be held?
It will be held October 4-5th in Miami, Florida. The specific locations of all events will be announced in the coming weeks. Additional days may be added.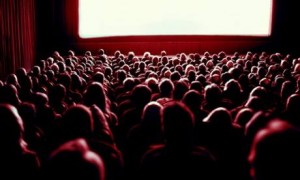 Is it open to the public, and are the events/screenings/discussions free to attend (or will there be a charge)?
Some events will be free, others will have an associated cost.  Our goal is to be reasonably priced so that artists can have a quality networking outlet that will also be economically accessible.
What (if any) shows will be featured at the fest, in what categories will they be featured and how many are official selections? What shows will be in competition there (and in which categories)?
Awards will include Cash Prizes, Trophies, and Perks provided by our sponsors. Awards include the following:
Best in Festival, Best New Series, Best Actor, Best Supporting Actor, Best Comedy Series, Best Action Series, Best Drama Series, Best Reality Series, Best Romantic Series, and a number of additional categories that will announced later. (I estimate that there will be roughly 30 categories total). One unique aspect of the festival is that nominees in the various categories will be recognized in the award ceremony in addition to the winners.
What panel discussions will take place there, where will they take place and who will appear at them?
Although the official schedule will not be announced until later in the year, attendees may look forward to interesting and unique events, not found in other festivals.  One such event will be an opportunity to pitch web series projects directly to potential investors. There will be speakers on a number of topics, which will likely include legal issues affecting web series creators, technical information related to cameras and equipment, and tips on attracting Hollywood talent to independent productions. The list of speakers and panelists will be released in the coming weeks.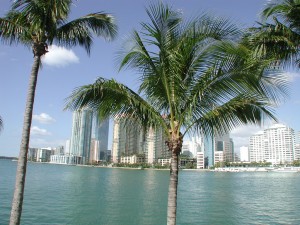 What can people expect when they attend Miami Web Fest?
Great exposure and networking opportunities, unusual panel discussions and guest speakers, and an amazing travel destination.
What, in your opinion, sets Miami Web Fest apart from other web series festivals?
The Miami Web Fest is unique in various ways.  First, the judging will highlight both winners and nominees in the various categories, recognizing achievement in a more inclusive way for those whose work merits it. Second, the panel discussions and guest speakers will cover topics which are unusual yet extremely useful. There will be speakers on a number of topics, which will likely include legal issues affecting web series creators, technical information related to cameras and equipment, and tips on attracting Hollywood talent to independent productions.
How will it benefit web series creators? In what ways? 
The MWF is designed to address the needs of web series creators, with a view toward assisting participants in their quest for exposure and profitability. All events are designed with this in mind.
How was Miami Web Fest developed? What factors led to its development, what (or who) inspired you to create it, and what was the main factor behind creating Miami Web Fest?
The MWF was created to fulfill a need for exposure for web series content for creators located in the southeastern US. In addition, Miami is a major international hub, frequented by artists and creators from throughout the world.  Therefore, the festival provides opportunities, which will significantly stimulate the web series community by bringing national and international exposure to those projects selected by the festival.
Will there be any streaming video coverage of the events, panels, etc.?
We have no plans to do this at this time, but there will likely be local television news coverage.
Was there a crowd funding campaign for the event?
No.  All funding is internal.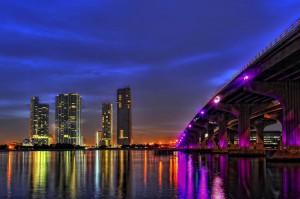 What is the web series community like in Miami? What shows currently film there, or are in the process of being filmed there, and what is the general perception (throughout the industry) of the web series community as a whole in Miami and in South Florida?
Web series creation in Miami is a rapidly growing trend due to the large number for film schools in the area and the artist-friendly environment that Miami offers.  Home to many successful actors, artists, designers and celebrities, Miami South Florida boasts a great number of web series' in various genre. Among them, the dramatic comedy KING OF FITNESS is particularly popular among a long list of other fantastic emerging works.
Will there be any networking opportunities for web series creators there?
There will be events designed for web series creators to network with each other, with industry professionals, and also with potential investors.
What do you hope to accomplish with Miami Web Fest, both in terms of helping make more people aware of web series as a form of entertainment, and with helping web series creators have greater success with their shows and as filmmakers?
Our most significant goals are to help web series creators find ways to improve production value, increase their fan base, and evolve their projects into financial successes.
If Miami Web Fest is successful, do you foresee this becoming an annual event?
The MWF is an annual event.  Planning for the 2015 festival has already begun.
Overall, how would you describe Miami Web Fest as an event itself?
The Miami Web Series Festival (Miami Web Fest) is the ideal exposition for Web Series' throughout the world, providing exceptional exposure, informational resources, and developmental opportunities, all designed to help web series creators achieve the ultimate goal of profitability.
For more information on Miami Web Fest, please visit its official web site:
FACEBOOK: www.facebook.com/MiamiWebFest
TWITTER: www.twitter.com/MiamiWebFest