In season 1 of the comedy/mystery web series THE MOP AND LUCKY FILES, a pair of "Personal Espionage Specialists" named (who else) Mop and Lucky team up to solve some of the most unbelievable cases to ever arrive on their desks. Mop (played by Chloe Taylor) and Lucky (Jennifer Erholm) conduct their operation in a makeshift workspace set up in a storage facility.
However, both are unaware that their workplace just happens to be a secret headquarters for the mob (represented by Michael McGee as Mickey, and Frank Potter as Teddy). Together, Mop and Lucky work to solve the toughest, most bizarre mysteries they've ever seen while both seek a steady love life – and while they try to stay one step ahead of the mob.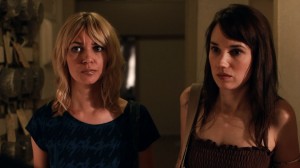 Now, THE MOP AND LUCKY FILES is currently set to produce a second season (6-7 episodes running 10-14 minutes long) of all new mysteries, comedy and suspense.
Before cameras roll, though, Taylor and Erholm have begun a crowd funding campaign via the popular platform IndieGoGo which will help them seek the funds needed to produce season 2.
The campaign is currently seeking to raise $15,000 by its deadline of July 22nd. If successful, the show will begin production of its second season this Fall, with a launch date set for sometime early next year. (A link to the show's IndieGoGo page is located right here.)
In addition, Taylor and Erholm have lent their voices to a special animated video, designed by animator and show fan Joe Horne, that brings viewers up to speed on season 1 of THE MOP AND LUCKY FILES, while also laying out the show's IndieGoGo campaign. That video is also available to view at the end of this article, plus on the campaign's page and on its official Youtube page (see link below).
"We wrote and recorded the script and a professional animator (Horne), who happens to be a supporter of the show, did the animation, as a gift. We then took this to our editor who cut it all together and added all of the additional effects and live action elements of the video. This was perfect, because we really wanted our video to reflect our style in some way and we felt that telling our story using the animated characters was great for that," they say.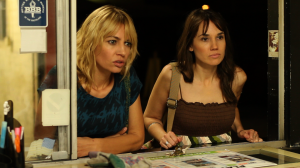 When it came to finding the right place to seek funding for season 2 of THE MOP AND LUCKY FILES, Taylor and Erholm chose IndieGoGo. The site has long been popular among web series creators primarily because it doesn't rely on an all or nothing fundraising system, a la Kickstarter.
That alone attracted Taylor and Erholm to the service, and the site's fundraising approach will pay dividends even if the campaign isn't successful.
"IndieGoGo allows us the option for flexible funding, so that the project will not be killed if we do not make our goal through this crowd funding campaign. This allows us to continue to raise money to make the show. We have committed to a one year deadline and if we are not able to produce the show within a year we will be personally refunding all donations made through IndieGoGo," the show's creators say.
For donors, the campaign's perks are incredibly diverse, becoming even more intriguing as each dollar level increases. However, as Erholm and Taylor explain, they tried to achieve a delicate balance of making each incentive offered as attractive as possible while trying not to break the bank on its production budget.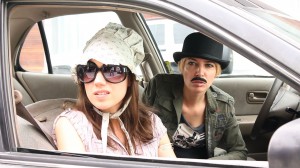 "We've tried to have fun with this and offer perks that will not rob from the budget of the show. We've offered the standards like postcards with notes of thank you, DVDs of the show, and at the $25 donation level (which statistically is the most common donation level) we offer one of our popular posters which during season one we put all over Los Angeles and they were constantly being stolen, the poster features Mop and Lucky and has our slogan "YOU'VE GOT QUESTIONS, BITCHES GOT ANSWERS." (Note: as of this writing, the $100 level perks, which comprised of DVDs of season 1, have already sold out.)
For those with plenty of dough to spare, the amazing incentives don't stop there. "More fancy perks include a ride to the airport with Mop and Lucky as your chauffeurs, finding someone to drive you to the airport in L.A. is worth it's weight in gold! We could only guess what that might actually be, so we settled on $250. We've also offered a really cool product placement perk in which we would feature a product or business in the show in a fun and interesting (and appropriate) way for $500. And finally, producer credit and walk-on roles for the high rollers."
If its campaign is successful, Erholm and Taylor say that viewers can expect more of the same hilarious comedy and intriguing mystery they've come to expect and appreciate in each episode of THE MOP AND LUCKY FILES. Along with that, they'll also get some greater insight on the people who populate the dark, seedy mob underworld that the show's protagonists find themselves inadvertently caught up in.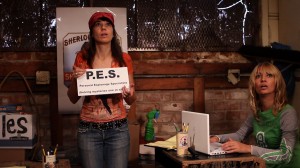 "Yes, we are excited about introducing new characters and shedding some light on the roles that the characters of Mickey and Teddy will play in the show. The audience will get a glimpse of the odd little underworld that Mop and Lucky will eventually find themselves tangled up in," Erholm and Taylor say.
Once the campaign is successful, the show's creators feel that THE MOP AND LUCKY FILES will only grow in its viewership and visibility once season 2 gets going. "With another season under our belt, we hope to build momentum for the show gaining a larger audience base and more exposure, which we hope will ultimately lead to some kind of sponsorship or partnership that will allow us to keep making the series."
(Note: The series is not currently closed captioned, and the show's creators say they have no plans to do so for season 2.)
To visit the show's IndieGoGo page, visit:
https://www.indiegogo.com/projects/the-mop-and-lucky-files
ON THE WEB: http://www.mopandlucky.com
YOUTUBE (for season 1 episodes): https://www.youtube.com/channel/UCTd_b4eHaMgXHew6Fy7jjEg
FACEBOOK: https://www.facebook.com/TheMopandLuckyFiles
TWITTER: https://twitter.com/MopandLucky
The show's IndieGoGo pitch video for season 2 can be viewed below: