In the world of entertainment, where fantasy is always a huge part of the creative experience, life can sometimes imitate art. For Mandy Wright, an actress known for her role as the fictional superhero Mighty Woman, her on screen persona soon becomes startlingly real as she battles a treacherous villain intent on destroying the world.
Created by Eric Tozzi and currently in development, the new fantasy/action/adventure series MIGHTY WOMAN ADVENTURES stars Cooper Harris (THE YOUNG AND THE RESTLESS, MEGASHARK) as Wright, a young actress who's known the world over for playing a superhero on TV. She's dedicated her life to bringing the show's legions of viewers the adventures of Mighty Woman, but when her series ends up on the brink of being consigned to TV oblivion (or, in layman's terms, canceled), her professional and personal life takes on a sudden change.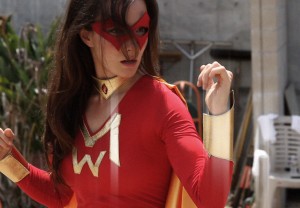 Even though Mandy's played an all powerful superhero on TV, she soon finds that she'll have to become one in reality when she faces a woman who's part of the sinister, mysterious universe of Void – Katt Black (played by Brittney Powell of XENA: WARRIOR PRINCESS).
Even more intriguing, Katt's got her own dark history that reveals itself throughout the course of the series, and with evil intentions to boot.
Mandy's world also features Kyle Jett, an actor who plays the role of Detective Chip Colson on MIGHTY WOMAN. Interestingly, Kyle also hopes to assume a similar role in his real life, with plans to enter law enforcement if the show is canceled. While Mandy has no idea of what her life will be like if she can't continue on as Mighty Woman, Kyle seems more prepared for life after stardom. (Note: the role of Kyle Jett has not yet been cast.)
The series has yet to go into production, but its official trailer can be seen on its official Youtube page, and at the embedded video link at the end of this article. In addition, visitors to the Youtube page will also see a special series called "Mighty Feats", which feature Mighty Woman demonstrating her own incredible feats of superhuman strength.
A longtime fan of Saturday morning kidvid and sci-fi series like STAR TREK, WONDER WOMAN and LOST IN SPACE, Tozzi's development as a filmmaker began to take shape thanks to two of 1977's biggest blockbusters.
"I became interested in filmmaking specifically after seeing CLOSE ENCOUNTERS OF THE THIRD KIND and STAR WARS at the theater, and so I began making short Super 8 films every chance I got. In the last several years I've been very fortunate to have satisfied a huge sci-fi fantasy by directing an award-winning short film based on the iconic author Ray Bradbury's story, KALEIDOSCOPE. MIGHTY WOMAN is also here to fulfill a similar dream that began when I was just a kid."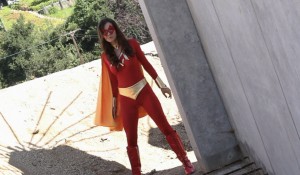 For Tozzi, the inspiration to create MIGHTY WOMAN ADVENTURES came from one of his favorite films; one that depicted the incredible scenario of what would happen if actors known for playing fictional heroic characters were suddenly forced to become them in reality.
"I was a huge fan of the film GALAXY QUEST. Back in late 2008, early 2009 I thought about taking the concept of actors thrust into the real life roles they play. Taking that concept into the superhero genre seemed a great avenue to explore," he remembers.
From there, the concept evolved from a full length movie into its current status as a web series. As Tozzi explains, the decision to turn MIGHTY WOMAN ADVENTURES into an original series for online audiences came as a result of his familiarity with, and past work on, another series created exclusively for the web.
"I wrote a spec screenplay titled, THE ALMOST GLORIOUS RETURN OF MIGHTY WOMAN. In early 2009 I began thinking about how to turn it into a web series, since I'd had prior experience directing and producing web series (DIRTY BOMB DIARIES in 2007). In 2011 I shot the teaser/trailer as a launch pad for the project."
While production has yet to begin on MIGHTY WOMAN ADVENTURES, finding actors to play the show's primary roles was a task easily achieved. Case in point: the role of the show's superhero protagonist.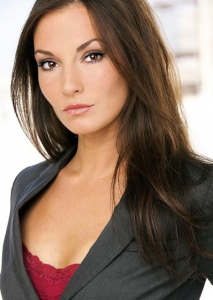 Recalls Tozzi: "Casting was pretty easy, especially for Mighty Woman. The role brought a lot of candidates, but Cooper Harris really got the concept for the show on a whole different level. An absolute team player and go-getter, she quickly became the obvious choice for the role. Take one look at a photo of her in costume, and she owns the Mighty Woman suit!"
Although the series will have a strong following among fans of superheroes and sci-fi/fantasy films and TV series, Tozzi expects that MIGHTY WOMAN ADVENTURES will appeal to viewers of all demographics through its storytelling and the common themes displayed in each episode.
"I expect that the male audience will be substantial, given that we have the gorgeous Cooper Harris saving the day in spandex and a cape. I'm hopeful that we can draw a strong female viewing base as well, since thematically the show will deal with relationship issues, identity problems, love, grace, and sacrifice."
MIGHTY WOMAN ADVENTURES is much more than just another superhero web series. As Tozzi says, it reveals an important truth that will resonate with audiences just as much as the exciting action, characters and compelling story lines depicted in each episode.
"Sometimes it's a gift that gives us the greatest power in life, not necessarily something we've earned. Additionally, there's a strong theme about identity, and how important it is to recognize how special and unique each person really is."
(Note: While the show has yet to air, its trailer is not currently closed captioned.)
To see the show's official trailer and "Mighty Feats" videos, visit its Youtube page at:
https://www.youtube.com/user/MightyWomanSeries
FACEBOOK: https://www.facebook.com/mightywomanadventures
TWITTER: @MightyWomanShow
The show's official trailer can be viewed here: