Over the years, countless movies, TV series and web series have depicted the lives, loves and struggles of the world's gay, lesbian, bisexual and transgendered community in humorous, dramatic and often poignant fashion.
From the groundbreaking dramas ANYONE BUT ME, its follow-up GOOD PEOPLE IN LOVE, PRODUCING JULIET and EASTSIDERS, to acclaimed comedies like IT COULD BE WORSE, HE'S WITH ME, OLD DOGS AND NEW TRICKS and HUSBANDS, web series have made a significant contribution to the history of that community, while also making a positive impact on the lives of those who continue to struggle with their sexuality and with bringing people to a greater acceptance of it.
Now in its third season, one such show has continued to do both in equally convincing fashion. OUT WITH DAD, now streaming on its official web site, focuses on the life of Nathan (played in seasons 1 and 2 by Will Conlon, and in season 3 by Jonathan Robbins, creator of the popular suspense series CLUTCH; more on that later).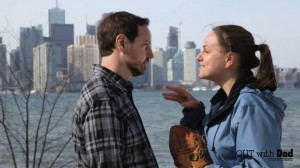 A single father to his teenage daughter Rose (played by Kate Conway), Nathan tries his best to make Rose's life a happy one, but his attempts to do so can sometimes be very awkward.
Meanwhile, after having come out to Nathan, Rose has begun to embrace her sexuality and has become more sociable in the process, while living in a home environment that is open and accepting to it.
Such is not the case with Rose's first love, Vanessa (Lindsey Middleton), who has not only struggled with her sexuality but also feels a strong sense of resentment because of it. Making things even worse for her is that her parents, Theresa (Wendy Glazier) and Steven (Robert Nolan) do not accept her for who she loves, which leads Vanessa to run away from home and to seek a more accepting atmosphere for herself. That story was told in the show's spinoff series, VANESSA'S STORY.
The cast also features Caitlynne Medrek as Claire, Rose's new girlfriend. Unlike Rose, Claire takes on life with confidence, strength and does so in a highly outgoing fashion. As series creator Jason Leaver says, season 3's 22 episodes of OUT WITH DAD promises to deliver more of the hilarious, heartbreaking and heartwarming moments that viewers have already become accustomed to.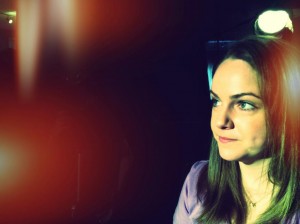 "A lot has been set up, and the payoff is still waiting. Rose has experienced firsthand bullying because of her sexual identity, so we have that subject to be dealt with. Vanessa's fate is still uncertain; we left off on a more positive note for – but she's not home yet. We have lots of emotions in store for our fans. Some of my personal favorite scenes I've ever written are still ahead," he says.
In today's society, single parent households have become more and more prominent. So too is the number of children growing up while trying to make sense of their own sexuality. For Leaver, the inspiration to create OUT WITH DAD grew out of both realities, as he himself wondered what life could be like if he faced such a situation.
"The premise for the series came to me one day as I sat on the subway pondering what life might be like as a single father. The notion of this imaginary daughter coming out to me intrigued me," he recalls.
"She'd have to face a lot of challenges growing up that I never did, as a straight person. I'd be very protective of her, and want her to come out with ease. But I might be so supportive that I could potentially be annoying! That idea made me laugh, and then it hit me that it might make for a good series. After that, I got researching and writing. It was almost a year to the day after the idea struck me that the camera started rolling."
While actor Will Conlon took the reins of portraying Nathan in the show's first two seasons, he would soon be unavailable to reprise his role in season 3. For Leaver, having to say goodbye to an actor who viewers had already enjoyed immensely was difficult, as was the task of finding an actor who could ably fill his shoes.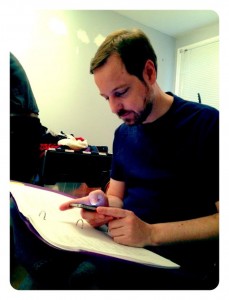 One night, that task would unexpectedly be accomplished thanks to a meeting with his longtime friend with Jonathan Robbins, who Leaver collaborated with on season 2 of CLUTCH, and who now assumes the role of Nathan in season 3.
"I did not know that he was an actor until we were out for drinks one night, and I was telling him that Will wouldn't be able to return for the next season, and that I wasn't sure what to do about that yet," he recalls. However, there was one major obstacle that stood in the way.
"He mentioned that he wished that he could audition for the part, but couldn't because he's in the actor's union. It took me a few seconds to register what he was saying: Jonathan + Actors Union = Jonathan is an actor! I was so surprised! Right away I thought he'd be a good fit. He possesses many of the same qualities I've always seen in Nathan the way I've written him. Shortly after, he informed me that he was no longer in the union, thus was free to audition. I was so glad," Leaver adds.
Before cameras rolled, Leaver made sure that the transition from one Nathan to another would be smoother than expected. "Much of the third season was written long before seasons 1 & 2, thus the character wasn't yet tailored specifically to Will – so in some ways he had a fresh start," he says.
"Plus, since Rose and Nathan were moving into a new home, now she's out – the early part of season three was about new beginnings already. So I felt it was just the right time for him to step in. I love the tenderness that he brings to Nathan. It's been a bit of a challenge for the audience to adjust – but usually by the second or third episode he's in, it's smooth sailing."
However, the task of replacing Conlon and winning over the show's loyal viewers would be just as much of a challenge for Robbins. "I'd first like to say that I was a fan of the show before becoming involved with it. I think Will did a phenomenal job with the role, so it was rather daunting stepping into it. The first time I read the script, I even pictured him saying the lines. The only way I was really able to do so was through connecting to the material," the actor says.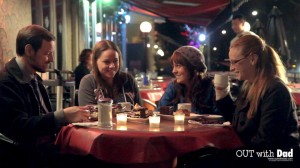 "As I let the story absorb, I let Nathan be me. The character was written before I was involved obviously; in fact one of the scenes in Season 3 is the first thing Jason ever wrote for OUT WITH DAD, so it wasn't a question of making him different," adds Robbins.
"It was just a question of what are the facets of him that I best connect to. For me, that was the fine line of a man trying to be a father and a friend at the same time, and his desire to give Rose the perfect life. That feeling alone is enough to pull the carpet out from under you, so I think as a result we get to see more of Nathan's awkward side. But that was largely from the script, not just from my portrayal."
Robbins' own personal experience, plus the considerable amount of time he devoted to learning about the daily struggles and hardships of those who have yet to come to terms with their sexuality, further enhanced his portrayal of the role. "I think I've been quite lucky, in that I've lived a considerably sheltered life. In many ways, save for the loss of his wife, Nathan has as well, and has raised Rose in that loving family environment," he says.
"I approached the role much the same as Nathan would have approached her coming out – by researching and listening. I read about statistics of the number of LGBT youth who commit suicide, read stories often from OUT WITH DAD fans about their lives, sat down with a couple of friends who have come out to hear their feelings. So my preparation for Nathan wasn't at all about understanding Nathan, it was about understanding Rose – which is exactly the heart of who he is. He loves her more than anything, and that is all I had to connect to."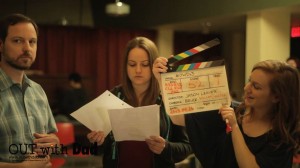 On the set, Robbins' transition to the show's new Nathan was made easier thanks to its outstanding cast and crew.
"Everyone on the show is a very fun and giving bunch, and we're all kind of in awe of each other. Every single one of them welcomed me and made me feel like I had been there the whole time. One of my favorite moments was the first time I acted opposite Caitlynne Medrek. Since I had directed her in CLUTCH, it was particularly neat to work with her on this side of the camera. And every moment opposite Kate Conway is a gift, she's just always present and it made my job much easier," he adds.
Replacing an iconic actor is never easy, and there's always the probability of a backlash among fans of any movie, TV or web series. As time went on, though, Robbins quickly gained the respect and admiration of OUT WITH DAD's loyal fan base.
"I have been floored with the positive reactions from fans. I was braced for some hatred, if for nothing else than that I was replacing a beloved actor. Of course there have been some comments expressing missing Will, as there should be, but they're always in conjunction with comments of enjoyment in seeing me do the role. It's funny that the show is about asking people to love and accept, and with the role change we kind of asked that of the fans, and they did," Robbins remarks.
Production of OUT WITH DAD became more streamlined as filming progressed over the past 3 seasons, thanks in large part to the strong working relationship of its cast and crew. "The production period itself is loads of fun. Our cast and crew are like a family. I like to keep things light and fun. We move very quickly, almost always wrapping on time or early for the day," Leaver says.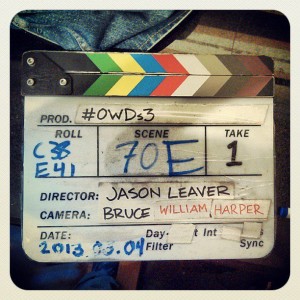 "Season three was different from the previous two seasons mainly because we acted much more like a professional crew. Jobs were more defined, we had production managers, line producers," Leaver adds. .
"Another big change is that on season three we had Bruce William Harper as our cinematographer full time. This was huge for me, as in the past I (Leaver) did double duty of director and cinematographer."
OUT WITH DAD continues a long tradition of film, TV and web series that portray out characters in an intelligent and entertaining way, but with some key differences that make it dramatically different than most.
"OUT WITH DAD, for its audience, is a deeply personal story. For many fans the show is one of the rare occasions that they see themselves being represented in media. In more mainstream media, gay/lesbian and bisexual characters are rarely depicted. And when they are, they are often stereotypes. Now, I should say this is changing – I'm glad to say. But when we began OUT WITH DAD, there were very few examples of characters like Rose," Leaver says.
Yet, unlike many shows that focus on the LGBTQ community, OUT WITH DAD has sought to tell their stories in a way that no other web series has ever attempted before or since. "…The major difference is that it is told from the parent's perspective too. Coming out stories have been told before, but rarely have the feelings and experiences of their parents coming to terms with having a gay child depicted. When I first set out to tell this story my goal was to have it be 50/50 Rose's/Nathan's story. It hasn't turned out that way, as it sort of evolved into much Rose's story – but Nathan's perspective is still a strong force," he adds.
"OWD has often been referred to as the Canadian version of ANYONE BUT ME, which I take as a compliment. It has also been compared to DEGRASSI (the long running Canadian teen drama) which is a statement that any Canadian filmmaker ought to be proud to hear. I've strived to have a bit of a Whedon flair in the writing, and I'm proud to say that some people have identified that."
One major example of that flair is the series' sixth episode, one that's very much in the vein of BUFFY THE VAMPIRE SLAYER's famous musical episode "Once More With Feeling". OUT WITH DAD's turn at song and dance in season 3 is just as memorable and just as entertaining. That's not to say, though, that pulling it off convincingly was as simple as a hop, skip and jump.
"The musical episode was tough, mostly just because singing and dancing don't come easily to me, or in fact in the case of dancing rhythm, at all. But even that worked out for the better of the episode as it's very true to the character. Really though, it wasn't a difficult set to be on as an actor. Jason did a good job keeping it that way, handling all the chaos in a way that it didn't drip on us," Robbins recalls.
The show's musical episode is just one of the aspects that makes season 3 of OUT WITH DAD worth watching, but Robbins also hopes that the show continues to grow through the compelling storytelling and characters its fans already are familiar with.
"I hope that not only the fans are satisfied with everything that comes out of this season, but that also new fans are found as a result of it. We did some things that have never been done on the show before, like the musical episode, and I hope that this gives the show a chance to be discovered more. For as many people that watch it and take comfort, identify with it, are inspired by it, etc, there are still many who would benefit if they knew about it and had that chance. So mostly, I hope that it continues to be shared and talked about," he adds.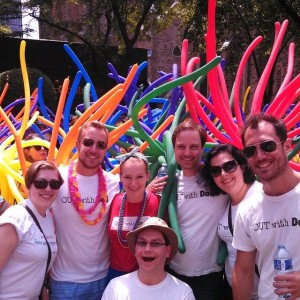 Since its debut in June of 2010, OUT WITH DAD has gone on to achieve wide acclaim from viewers of all ages, and influential web series industry leaders.
Yet, the greatest impact it has achieved is through its incredible outreach to, and impact on, the LGBTQ community as a whole. As a result, OUT WITH DAD earned the official endorsement of the Canadian chapter of PFLAG (Parents and Friends of Lesbians and Gays).
For Leaver, the fact that his series has made such a substantial difference in the lives of its viewers is perhaps the greatest honor it can possibly achieve. "When I first set out to make this series, I was hopeful that we'd make something that would have an impact on people – even if just a little. I think we all shared that dream. What none of us expected is just how big an impact it would be. Myself and the cast have had countless conversations and messages from our audience of them proclaiming their love of the series, and how special it has been for them," he says.
In fact, OUT WITH DAD has touched the lives of millions of LGBTQ youth throughout the world, even in countries where homosexuality has been criminalized and even punishable by death. In some cases, the series has even saved their lives.
"It is a gift. Every time I hear from or about someone whose life has been touched by the show, (and) in some cases that means saving it, I appreciate that I had some small role in that. It's every artist's dream – to create something that affects people. So it is incredibly fulfilling, and it is also very humbling. I have learned so much by joining this community, and I continue to do so," Robbins says.
Leaver echoes that sentiment. "We've heard from countless young people telling us that the show has given them the courage to come out. Some have even told us they might not be alive today if it weren't for finding the courage OUT WITH DAD gave them. I don't think I can express how such a thing can make you feel."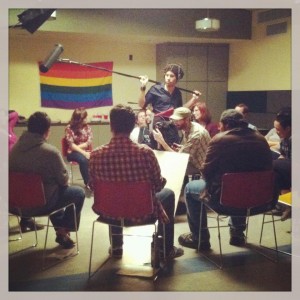 While the series has made a tremendous difference in the lives of its younger viewers, it's also made quite an impression on older viewers, including parents who hope to understand and accept their own kids for being who they are as people.
"We have mostly young fans in their tweens and early teens. But we also have lots of fans who tell us they wished there was a show like OWD when they were young and going through what Rose and Vanessa are going through. And parents too, we have many parents thanking us for helping their kids connect," Leaver says.
As OUT WITH DAD continues to gain new audiences and to tell the story of a young woman and a single father making sense of the complicated world they live in, the greatest goal Robbins and Leaver hope to achieve remains as powerful as ever.
Says Robbins: "I hope that I can help inspire parents to challenge themselves to open their minds and to embrace their children who are struggling with coming out. If in some way, this role can inspire them to show that things don't have to go like you imagined they would for them to still turn out wonderful, then there's not much more that I could hope for."
(Note: Regarding closed-captioning, Leaver adds: "…Our show has been subtitled in English and in a variety of other languages. Fans who identify as LGBT and are deaf have told us how thankful they are that our show has been made accessible to them. Our subtitles have also been translated into several other languages, and we credit much of the series' success to the fact that our series has been made so accessible to people around the globe. Nearly 1/6 of all of our comments are in Spanish!")
ON THE WEB: www.outwithdad.com
FACEBOOK: www.facebook.com/outwithdad
TWITTER: @OutWithDad
TUMBLR: http://outwithdad.tumblr.com
The season 3 premiere of OUT WITH DAD can be viewed here: