In life, every ending is preceded by a totally new beginning. The same can be said about romantic relationships. However, have you ever imagined a new romance beginning after the end of the world?
In season 1 of the new post-apocalyptic comedy web series BAD TIMING, that question is answered in hilarious fashion as a geeky but lovable IT specialist falls in love with his beautiful co-worker – only to have to face not only the zombie apocalypse, but also her swashbuckling movie star boyfriend who seeks to save her from the world's demise.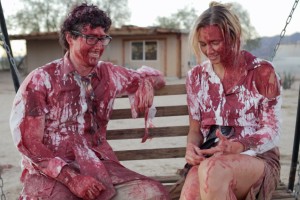 Created by and starring Andy Goldenberg as the show's protagonist, BAD TIMING recently wrapped its first season of 15 episodes on its official web site and on Goldenberg's Youtube page Goldentusk.
An IndieGoGo campaign to raise funds for production of season 2 is now underway. The campaign, which ends September 2nd, is  hoping to raise $20,000 for production of its second season.
In addition, the show's IndieGoGo campaign teaser, released just in time for San Diego Comic-Con, can be viewed at the embedded link located at the end of this article. Goldenberg says he hopes to produce 10 episodes for the show's sophomore season, each longer than the 15 produced for season 1. Season 1 debuted this past Valentine's Day.
Goldenberg (in an exaggerated portrayal of himself) plays Andy, the socially awkward yet hopelessly romantic techie who becomes infatuated with his gorgeous co-worker Eve (played by Aqueela Zoll). Although Andy isn't quite ready to admit it, it's true that the painfully awkward computer guru is head over heels in love with Eve.
Yet, what's even more amazing is that their budding romance is consummated just as a terrifying zombie apocalypse has destroyed the last remnants of planet Earth. Unfortunately, as the show's title indicates, some of the most complicated situations arise at the most inopportune moments for that couple.
One such situation presents the biggest problem for Andy as he tries to win over Eve's heart. He's also got to contend with Eve's current main squeeze, a kick-ass movie star action hero named Kevin (Michael Foster, G.I. JOE: THE RISE OF COBRA, in addition to being a contestant on season 3 of THE BACHELORETTE).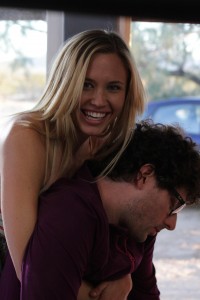 Kevin's out to save his damsel in distress from all the destruction that surrounds her, but will he save their relationship now that Andy's in the picture? Furthermore, will Andy be able to save himself from getting his heart broken?
Having been a performance double for Adam Sandler during production of the comedy film JACK AND JILL, plus the cover boy for the 'Nice Jewish Guys Calendar', Goldenberg became a Youtube star in 2006 when he posted a series of videos that featured the young actor/comedian attempting to put lyrics to some of cinema's most memorable (and solely instrumental) film scores.
In addition, he and his improv group Freedom Snatch also collaborated with BAD TIMING's director, Brandon Ravet, on an earlier web series called THE LOFT.
For Goldenberg, frustrated at the lack of major comedic roles available to him, the chance to create a web series that would display his comedic talents and his abilities as an actor came, incredibly enough, at a perfect time for undiscovered filmmakers and performers. "I created the show initially as one monologue in one episode (essentially Chapter 1) and developed it into more of a serialized show after so much web content was being picked up for television."
However, he says, the real inspiration for what would become BAD TIMING came at the heart of the show's initial concept.
"The idea for the show came from this age-old question: If you were stranded on a deserted island, who would you want to spend the rest of your life with? In middle school, everyone always wanted to be stuck with a supermodel, but even back then, I had a hunch that she wouldn't want to be there with them. It takes two to tango, and it's going to be a very long time before Cindy Crawford (insert more recent supermodel here) wants to dance after those given circumstances," Goldenberg says.
While the zombie apocalypse has enjoyed its greatest amount of popularity and attention through movies like DAWN OF THE DEAD (and its sequels and remakes), plus the hit AMC thriller THE WALKING DEAD, BAD TIMING doesn't rely on overt gore, violence and special effects in order for it to grab viewers. As Goldenberg explains, BAD TIMING is unique in that it doesn't rely on such factors, and because its serialized format supersedes any reliance on cheap thrills.
"The zombie apocalypse is the backbone of this show, but, in the first season, we leave all of the zombie gore and killing to other shows. Andy and the other characters might run into a zombie, but it will never become THE WALKING DEAD. A. We don't have the budget and B. Even if we had the budget, those shows already do it well. Our web series is serialized, which means that you really need to watch the whole series from start to finish, instead of just watching Episode 2 and being able to understand any episode at any time," he says.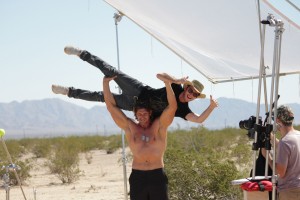 After writing and developing the characters and episodes with his sister, Lauren (who worked on the hit NBC action/comedy series CHUCK), Andy Goldenberg set out to find the actors who would fill the show's two other major roles; one of whom he knew quite well from an earlier project.
"I had worked with Aqueela Zoll on an improvised movie called FRIED and immediately knew she would be perfect as Eve. She's gorgeous, but smart, funny, AND super down to earth. Michael Foster auditioned for the project in Los Angeles. He entered the room with such a magnetic presence, I instantaneously fell in man-love with him. The fact that he completely towered over me and everyone else certainly helped the decision," he recalls.
Although Goldenberg had plenty of experience as a creator of his own Youtube content, BAD TIMING was something of a departure for the actor/comedian in that it was both the most extensive project he ever embarked on and the first project where he did not rely solely on himself. Yet, as he recalls, that didn't make the task of filming each episode any easier.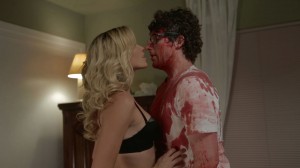 "Up until this series, almost everything I had produced on my channel was 100% done by me. Total creative control. The only thing that made it a little easier to let go of some of that control was that many of these guys I already knew and respected their work. With such a limited budget, we pulled many MANY favors and we worked four very long days in the desert amongst scorpions, flying insects, and intense heat. Yet, nobody ever complained (out loud), there were no personality clashes, and everyone made it home safe and sound."
Perhaps Goldenberg's biggest goal for BAD TIMING's success is to win over not only fans of shows like CHUCK and THE WALKING DEAD with its unique storytelling and romantic humor, but to be a show that will touch all those who feel that with every ending, the chance for a beautiful new beginning is just around the corner – no matter how bad things seem to be. "It's never the end of the world, until it is. And even then, things can always be worse, so be happy with what you've got!"
(Note: Regarding closed-captioning of BAD TIMING, Goldenberg says: "As of right now, the show is not closed-captioned, but it's in talks. I'm waiting to hear back from someone who had brought it up to me after a film festival screening.")
To contribute to the show's IndieGoGo campaign, visit:
http://igg.me/at/badtimingseason2
ON THE WEB: www.badtimingshow.com
YOUTUBE: www.youtube.com/goldentusk
FACEBOOK: https://www.facebook.com/badtimingshow
TWITTER: http://www.twitter.com/goldentusk
The season 2 IndieGoGo campaign teaser for BAD TIMING can be viewed here: