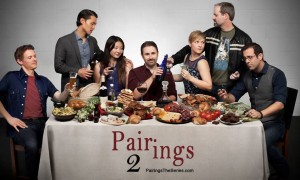 Few things brings lovers together better than the delicious taste of a well cooked meal. Even more so, food can often be the one true thing that starts a romantic relationship, while uniting two people in a common bond.
In season 2 of the drama web series PAIRINGS, food continues to unite a diverse set of people already bound by love, family and the occasional game of Dungeons and Dragons.
Both seasons 1 and 2 are now streaming on its official web site and Youtube pages. As was the case for season 1, season 2 of PAIRINGS will have 6 episodes, with new episodes airing each Wednesday. In addition, PAIRINGS also extends its reach beyond the main series proper with great supplemental video content that's sure to touch the foodie in all of us, and even those who try to be, but don't necessarily do a good job of it. (More on that later).
Co-starring, and co-created by (with real life spouse Jodie Younse) Ed Robinson, PAIRINGS continues to bring viewers a drama filled with "food, nerds and women" as per its tagline. However, Robinson says there'll be much more to season 2 than those aforementioned elements.
"Our second season is a bit more complex, but it remains true to the themes of the first season. Food is still important, but relationships, family, and love play a major role in our second season," he says. (Note: the first episode of season 2 can be viewed at the embedded link below.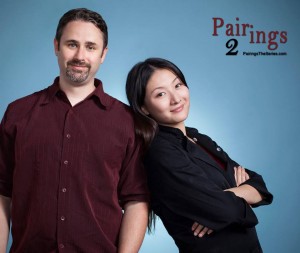 The series stars Robinson (from the upcoming BRIAN MAJESTIC: DINOSAUR HUNTER and his own cooking web series SCI FINE DINING, which he co-hosts with Younse) as Alan Wallace, a man who's got talent for designing great web pages, and an equally formidable talent for cooking great food; one he earned from his late father.
Though Alan's quite awkward socially towards women, he soon finds out that his culinary talents make him more of a potential catch than he could have ever imagined.
Just as food is a huge part of Alan's life, so too are his friends and family. Shannon Nelson (GOLD: THE SERIES, THE LADIES AND THE GENTS) plays Alan's sister Addie, herself a talented chef and caterer who knows all about the hard work of putting together great food, and of maintaining a steady relationship with her husband Steve (David Nett, GOLD: THE SERIES, THE LADIES AND THE GENTS). In addition to being Alan's brother-in-law, Steve also shares another of Alan's major passions: tabletop gaming.
The show's ensemble also features Nathan Mobley (GOLD: THE SERIES) as Bobert Fence, Alan's estranged best friend who discovers more about himself and his own life throughout season 2. In addition, Rick Robinson (who also directed the show) portrays Alan's younger brother Drew, who both serves as his roommate and as his partner in craft beer brewing. Rounding out the main cast is Nebula Gu as sushi chef Rose Nakamura, whose perceived relationship with Thomas (Paul Yen) undergoes a shocking change as season 1 closes.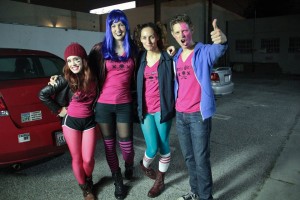 New to the show's cast for season 2 is Paula Rhodes as roller derby queen Jo, a.k.a. "The Scarlet B*tch", plus Sarah Orr as Kim, Thomas' wife and sister in law to Rose.
Making things even more complicated for Rose is the reemergence of her ex-boyfriend Roy (Eddie Kualaukui),  who's just arrived into town and who also seeks to wreak havoc on Alan's life.
In addition, Richard Hatch (best known for his roles on the classic '70s detective series THE STREETS OF SAN FRANCISCO and the legendary '70s sci-fi drama BATTLESTAR GALACTICA) plays Richard Conklin. Not only is he the executive chef at the restaurant once operated by Alan's father, but he also serves as an uncle figure to Alan and his family.
Married in real life, Robinson and Younse developed the concept for PAIRINGS based on their relationship and Robinson's innate culinary abilities. "The idea was based on our relationship. I found Ed's talent as a cook extremely sexy. After discussing how that would be a great premise for a show one night over a bottle of wine, I awoke to find that Ed had already written a pilot overnight," Younse says.
While season 1 focused primarily on Alan's life, as well as employing a major comedic element throughout its 6 episodes, season 2 of PAIRINGS differs in that it emphasizes both a more dramatic storytelling style and a significantly well rounded approach to how its characters are featured throughout each episode. Though Alan's role was dominant in PAIRINGS' first season, Robinson decided to take the primary focus off of its protagonist and shift it towards the entire core ensemble, plus the new members of that group, in season 2.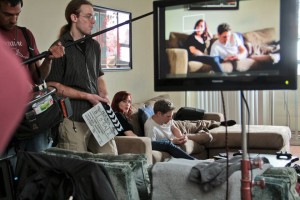 Just as PAIRINGS changed its approaches toward its episodic storytelling and in the way it featured its characters, so too did its production.
"Our production definitely evolved quite a bit. We had just about the entire season 1 team back for season 2, all with a years extra experience under our belt. But more than that, we were all comfortable with each other. When something wasn't working, someone would voice their concern and we would fix it. The crew functioned like a well oiled machine," recalls Robinson.
Along with each episode of PAIRINGS, some hilarious supplemental content comes in the form of the 6 episode series COOKING FAIL: BOBERT'S VLOG, airing every Monday and featuring Bobert's character trying – and failing miserably – to cook dishes we've all come to love. Whether it's bacon, tacos, or even cookies, Bobert's attempts to be the next great chef fall apart in spectacularly wacky fashion.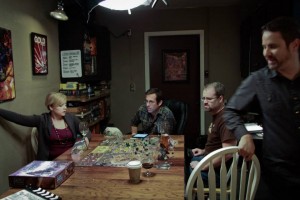 As Robinson explains, the idea for COOKING FAIL was inspired by both the fictional online musings of one of TV's most popular womanizers, plus repeated consumption of an always reliable creative enhancer.
"Apparently all of our great ideas start after a glass of alcohol. During the IAWTV awards this year, Jodie decided we could really use some supplemental content. She suggested a Bobert's blog similar to 'Barney's blog' from HOW I MET YOUR MOTHER. Rick then suggested that it be a vlog instead. We decided that while there are a lot of 'How To' videos on YouTube, we had never seen one about 'How NOT To Do.' After post production of PAIRINGS wrapped up, the few of us involved (Jodie, Ed, Rick, Shannon and Nathan) got together and shot the episodes in a day," he recalls.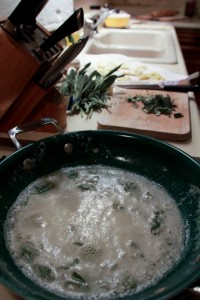 Another key piece of supplemental content that PAIRINGS provides is a series of featured recipes that are prepared in each episode. It's also given fans of the show the chance to interact by producing "food porn" of their own.
"My favorite thing to see from the fans is when they send us pictures of the food from the show that they made from the recipes on our site. That is one of the reasons I made the show, to bring people together through food and cooking," adds Robinson.
PAIRINGS won both critical and industry acclaim as season 1 captured numerous awards and nominations. It also earned Robinson and his talented team the respect and admiration of his peers precisely because of its outstanding production quality and its superb cast.
"We have gained a lot of dear friends in the web series community, who are huge supporters of the show. Michael Caruso of DEVANITY, Jeff Burns of SUPER KNOCKED UP & Jonathan Robbins of CLUTCH, to name just a few of the folks who have been so supportive."
No matter how successful Robinson, Younse and the cast/crew of PAIRINGS are in continuing their series, they continue to prove through the romantic adventures (and misadventures) of its characters that the most beautiful relationships sometimes begin not with a kiss, but with a chew.
Says Robinson: "People connect to each other through food. Dinner with loved ones is a feast for all of your senses. Taking the time to cook and share food together feeds the soul as well as the stomach."
(Note: Robinson says that the show is not currently closed captioned, but that he hopes to add that feature to each episode by summer's end.)
ON THE WEB: www.pairingstheseries.com
YOUTUBE: www.youtube.com/PairingsTheSeries
FACEBOOK: www.facebook.com/PairingsTheSeries
TWITTER: @PairingsEd
The show's season 2 premiere can be viewed below: