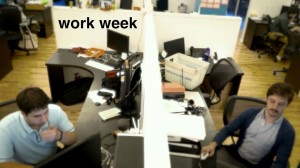 Nothing's more monotonous, more tedious and utterly more soul crushing than the 5 day a week, 9 to 5 grind of an office job.
Amid all the boring tasks, coffee runs and low pay, the biggest goal for any working stiff is to just make it through the end of the day in one piece. Sometimes, though, that goal can either be achieved, made more difficult, or even both, by just how well the guy in the next cubicle works with you.
With new episodes airing every Monday and Thursday (25 for this season) on its official web site and Youtube pages, the hilarious new comedy web series WORK WEEK focuses on a pair of co-workers who do much more than share an office space. They share an uneasy friendship that results in some wacky adventures while on the clock.
There's the often grating and obnoxious Lou (played by Lou Waxman), who enjoys getting his only friend and co-worker Rich (played by Rich Camp, A GUY GOING CRAZY) into some sticky situations thanks to his penchant for troublemaking. However, Rich does his best to keep a cool head throughout, although some of Lou's more outrageous behavior can often get to him.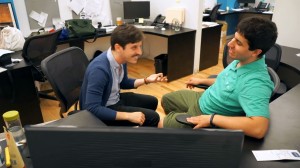 In addition to starring in the series, Waxman and Camp created, co-wrote and filmed all 25 episodes during off hours in the very place they work at; a production process that would truly exemplify "guerrilla filmmaking". (More on that later).
Both talented comedic actors and writers, as well as being highly familiar with the unforgiving pace of a 5 day work week, Waxman and Camp would soon develop the story and comedic situations depicted in WORK WEEK during, what else, work. As they explain, it was the perfect way to pass the time during an otherwise dull day at the office.
"We were eating lunch in Bryant Park one day. We'd both been working on a reality TV show for a while, but knew little about each other," they recall. "Over tuna, we found that we had a mutual interest in comedy writing and, from there, started informally tossing around sketch ideas during work hours."
In addition to playing highly exaggerated versions of their real life personas, Waxman and Camp  joined forces behind the camera, as well. Given that they were the only ones around after work (obviously), they decided to stick around after work and shoot each episode using the most inconspicuous equipment possible (in this case, a 12 inch tripod and smartphones which doubled as lavaliere microphones).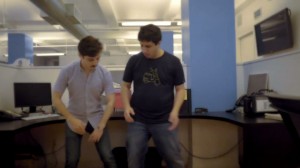 As Camp and Waxman explain, the process of producing each episode was something of a covert operation.
"Since this was all just unsanctioned, we had to wait until the office was empty, then we'd sneak around shooting, aiming for the simplest, least incriminating production set up we could muster," they say.
"We'd run the camera for each other's shot which got difficult when we were both needed for a scene. We also acted as the editors, post team, and fluffers." However, the secretive nature of their production gave them a lot to be concerned about.
"It was kind of scary since neither of us wanted to get fired but we never asked for approval to film. So there were a lot of late nights, waiting for people to leave while we pretended to be swamped at work," they remember.
While it took a considerable amount of time to shoot each episode of their series, weekend filming also gave Camp and Waxman the chance to really cut loose on set. "We shot usually one day a week for a couple months, including a few all day Sundays, which were the most productive because no one was ever around," they say.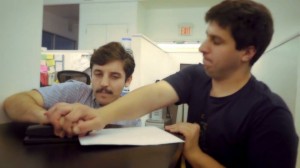 "If we seem drunk in any of these videos, that's an indicator we shot it on a Sunday." The simplistic, minimalist style of WORK WEEK's production didn't just keep the show's cast and creators from going overboard on storylines.
Along with episodes typically running anywhere from 30 seconds to 2 minutes, Camp and Waxman believe that the show's simplicity helps set it apart from other comedies. "Each episode is more akin to a three or four panel comic strip than what you might think of as a web series episode," they add.
"Simplicity and brevity are what sets WORK WEEK apart. That, and our porn star good looks." That brevity also comes with great comedy that will appeal to a wide range of audiences – even those who work for a living. "It's short, it's family friendly, and it's silly, so we feel almost anyone can get into it. Office workers, in particular may find a lot to relate to here (stapling, typing, printing things, etc.)," Camp and Waxman add.
Through each fast paced, yet extremely hysterical episode of WORK WEEK, Camp and Waxman do more than just make you laugh. They prove that even the most boring workdays are made a little easier when you've got someone to share them with.
Says Camp and Waxman: "Work is lame and, whenever you can, you should try to mess with your co-workers because that way you'll at least have someone to talk to."
(NOTE: The series is not currently closed-captioned.)
ON THE WEB: workweekcomedy.com
YOUTUBE: https://www.youtube.com/channel/UC-Y6lrorJ3G4BYjfIIl249A
FACEBOOK: www.facebook.com/WorkWeekComedy
Watch one of the many episodes of WORK WEEK at the embedded link below: