For the second straight year, NOVAC (New Orleans Video Access Center) held Web Weekend, a three day web series festival/networking conference that brought new and current creators of original content for online media together with some of the industry's most influential decision makers and executives.
As someone who attended the very first event last year, this year's edition was just as informative, insightful and educational for me as it was for all those who gathered. It also had added meaning for me, considering that I'm now creating my own web series (the satirical current events comedy THE LATE, LATE NEWS, more on that later).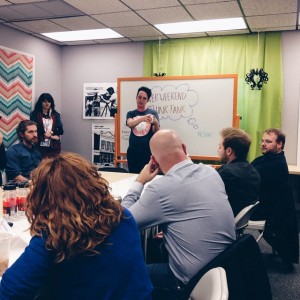 The 2014 edition of Web Weekend began last Friday, November 7th at NOVAC's main headquarters in New Orleans.
As was the case this year, the first day was devoted primarily to learning from and networking with top producers and other key figures in the world of new media during the Think Tank event.
8 new shows took part in the 2014 edition, including the popular comedy HelLA, plus locally produced shows like EASY, KYLE JUNE WILLIAMS IS THE WORST, INTERROGATION, HOGWASH, and SIDEWALK STORIES. In addition, a documentary web series on the popular web site Reddit also participated in this year's Think Tank.
Each participant got the chance to obtain valuable insight and feedback on their shows from panelists Luke Ryan (CEO of The Alchemists, responsible for such shows like Hulu's EAST LOS HIGH), Vimeo VP of Content Acquisitions Sam Toles. Also on hand to add their expertise were web series stars Alex Anfanger (NEXT TIME ON LONNY) and Akilah Hughes, comedienne/writer/actress/creator of the popular Youtube series AKILAH, OBVIOUSLY.
Saturday, November 8th began with an informative, in-depth series of panels and updates from some of 2013's Think Tank participants, all held at the New Orleans BioInnovation Center. Up first was Perfect Pitch, an opportunity for aspiring creators of reality based TV and web series to pitch their concepts to executives from North/South Productions (the people behind SAY YES TO THE DRESS and IMPRACTICAL JOKERS, among others).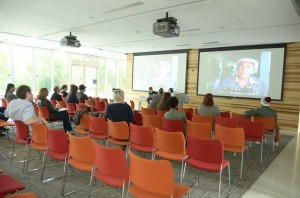 I arrived midway through their presentation, which featured previews of new shows that were in development by the company.
On hand to display them to the audience were Blaine Hopkins, North/South's partner and development GM, and Zach Perkins, the studio's senior director of development.
Throughout the day, they met with several aspiring series creators who pitched their own ideas for new unscripted content.
In between panels, I got a chance to speak to HelLA star/writer/creator Rory Uphold, SIDEWALK STORIES creator/producer Chris DeMacy, INTERROGATION writer/executive producer Britain Valenti, plus Kyle June Williams and CJ Hunt (creators/co-stars of SUNKEN CITY, and the new series ENJOY YOUR STAY). They were both very excited to be part of Web Weekend, and they were equally determined to share their knowledge with fellow series creators throughout the festival.
The day's panel presentations continued as Luke Ryan gave what was arguably the most extensive and informative presentation of the day. Ryan, having played a key role in the development of Hulu's popular web series EAST LOS HIGH, provided the audience with in-depth insight on how web series creators can create a unique transmedia experience with their content.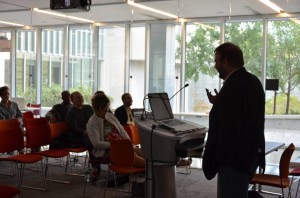 Along with impressive visuals and statistics on online viewership, Ryan also presented a video summary of EAST LOS HIGH's expansive use of transmedia storytelling.
Because it's a show that tackles some of the most important issues facing today's teenagers (relationships, pregnancy, peer pressure, etc.), EAST LOS HIGH employed a multi-platform approach that stretched far beyond the confines of the primary series.
From first person character vlogs, to a special app portal connecting viewers affected by teen pregnancy to Planned Parenthood, and even instructional cooking videos for those who want to make East L.A.'s Spanish cuisine in their own homes, EAST LOS HIGH's innovative methods were a strong case study in how effective such a campaign can be.
He closed by noting that thanks to the power of the web, there's no need to wait for a studio to validate anyone who seeks to create their own content. To the many web series creators and filmmakers who were there for his presentation, Ryan said they were "at the center of the biggest tidal wave in media."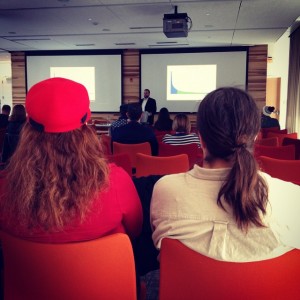 While the panel was underway, I finally got an opportunity to pitch THE LATE, LATE NEWS to Hopkins and Perkins. In addition to it being a satire of 24 hour cable news, I mentioned to them that it's also a show within a show.
I added that the individual character arcs of the show's main characters, and their evolution throughout the story, make THE LATE, LATE NEWS unique. Both reps from North/South were very impressed by the concept.
Toles' presentation focused on Vimeo, and its many advantages as a site for indie filmmakers. "Vimeo has become the de facto tool for professionals to showcase their work, allowing you to use what I humbly believe is the best video player on the web, to create environments your content deserves to be shown in," Toles said.
Although comparisons to Youtube were obvious, Toles touted Vimeo's ad free business model through its Plus and Pro accounts used by a half a million subscribers.
Perhaps the biggest of those advantages is Vimeo's 90/10 revenue split, by far the most generous among all other web video providers, and the first of its kind in the entire industry. That feature gives the site's Pro account holders the tools to sell their content on their own terms, while giving them the chance to keep much of the overall revenue generated by those sales.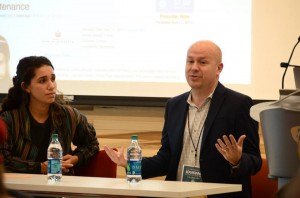 According to Toles, the genesis for Vimeo's 90/10 revenue split came about after an extensive survey of the site's Pro users conducted over 2 years ago.
The consensus was clear: they were tired of the restrictions set by Hollywood gatekeepers. "We would like the ability, the freedom, the power and the flexibility to sell the work we create our way to the consumer base in a tool that's flexible and awesome that allows you to do that," he added.
As Toles explained, consumers can view a trailer video through Vimeo's standard transactional storefront player. Since the trailer will be attached to the film, potential buyers will instantly be taken to a link to purchase it, even if they see it on sites like Facebook and Twitter. Once purchased, viewers can watch the movie on those pages, plus all other streaming platforms Vimeo is affiliated with (Roku, Apple TV, etc.)
"It gives filmmakers the power to put their work on a massive network across the entire filmmaking spectrum, charging what they want, (and) opening it up to territories they want," Toles added.
Toles also stressed Vimeo's commitment to transparency by delivering vital data that helps filmmakers track the progress of their projects (word of mouth, social media, traffic, overall sales, etc.) in real time. He added that the success of that system, and of Vimeo's 90/10 revenue split, depends on the cooperation of Vimeo and the people who use it.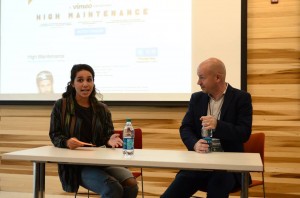 "At a 10 percent margin, our creators have to be really, really well in order to succeed in this grand experiment," Toles said. "Ultimately, what that means is we have to work together to support a fundamental change in the way revenue is generated for independent film."
Most importantly, Toles emphasized that indie filmmakers not only compete with today's current films and TV shows, but also the rich amount of pre-existing content on TV, DVD and streaming. While the era of appointment viewing has been supplanted by on-demand content, Toles noted that generating substantial word of mouth is crucial for all filmmakers.
He went on to note that many Youtube users will place small clips of their shows there, while giving people a chance to buy longer form content on Vimeo. In addition, Toles announced that Vimeo's much criticized search function will soon be rebuilt and restructured, giving people an easier and more efficient way to search for quality content.
He also noted how linkage through analytics gives viewers a chance to buy content similar to video clips they've seen. Thanks to a group of 10 curators who scour the web for quality content, Vimeo will give viewers more choice amid popular pre-existing films and TV shows sold elsewhere.
"We deliberately did not go to the studios as our first stop, because we didn't want to sell ourselves out on that top premium shelf," Toles remarked. "We want this (Vimeo) to be an experience unlike anything else on the web."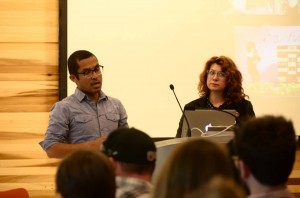 The final panel I attended had plenty of laughs and great insight from CJ Hunt and Kyle June Williams (creators/co-stars of SUNKEN CITY).
Backed by a humorous set of visuals, Hunt and Williams pointed out 7 key questions every web series creator must ask before they dive head first into the wild world of indie filmmaking; questions based on their own experiences producing SUNKEN CITY.
Among them: what do people love to watch, and who in your community can help you achieve your goal of making a successful series? For Williams and Hunt, their love of Australian comedian/actor Chris Lilley (SUMMER HEIGHTS HIGH, JA'MIE: PRIVATE SCHOOL GIRL, JONAH FROM TONGA) and their desire to work together led to their creating SUNKEN CITY.
Hunt encouraged aspiring web series creators to take advantage of, and work with those who share the same goals and interests – just as he and Williams did. "Make something small with them. Make something that is super low stakes," he said. "Maybe it's just putting a sketch up at a sketch open mike, or maybe it's just getting together to write a little something. When you have chemistry, it's like, 'let's roll. Let's make a show.' which is what we do."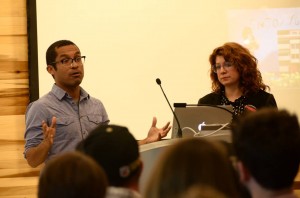 Hunt and Williams also asked the audience members to use their "superpowers" (things that creators do better than anyone else) when developing their series.
"If you're making a series and if you're spending a minimum of six months on a series, you'd better be making something that uses your superpower," Hunt added.
For SUNKEN CITY's duo, character was their main strength, though their interests couldn't have been more different. "We worked really well together because our obsessions are well different. I'm kind of a business b*tch and CJ is this dreamer," said Williams, to raucous laughter. "We decided when we were going to take the lead on certain things, and when we would pull each other back."
Williams also said that the popular crowd funding platform Kickstarter gave her and Hunt an opportunity to build SUNKEN CITY's devoted fan base as their campaign progressed. It also gave Williams and Hunt a chance to give back to those who contributed to it during the first season's production.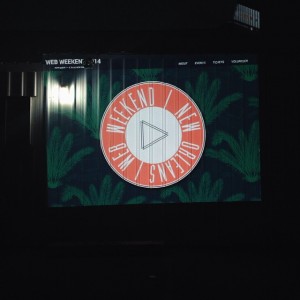 Both talented actors/creators said that it never hurts to ask for help, especially with production on a web series, and that creators should take time to listen to feedback even during the writing process.
Hunt and Williams emphasized that when production on one show is winding down, the time to get started planning your next project should be just beginning.
In closing, Hunt asked the audience to consider the biggest question they must ask themselves when working on a new web series: why are you making it in the first place? "It can't be because you want season 2 picked up, because that's kind of the dream for us all," Hunt said.
"For us, the end product is not the show. The end product is you," he added. "The show is a showcase of what you can do, and the thing you're making is a following of people who are invested in the thing, who want to see the next thing you make."
The next thing Williams and Hunt have made is a new comedy called ENJOY YOUR STAY, which pokes fun at the popularity of lodging website AirBnb. The series' trailer premiered during their panel, and its first episode debuted with the other Think Tank participants' series later that night during a special screening at New Orleans' Indywood Theater.
Just like last year, 2014's Web Weekend was a phenomenal success, thanks to the hard work and leadership of NOVAC, Darcy McKinnon and its entire staff. They've organized an incredible event that benefits both aspiring and current web series creators alike (myself included), and it should keep growing as the years go by. More than anything, Web Weekend further demonstrates that web series are here to stay as a viable entertainment medium.