No matter if it's shopping, paying the bills, or interacting with people, the Internet has dramatically changed the way we live every day. One aspect of daily life that's been transformed, and in many ways, complicated by the Internet, is dating. While online dating boldly claims to hook up users with "the right one", that search can come with a lot of highs and lows.
Now streaming its first season of 12 episodes on its official web site and Youtube pages, the new comedy web series THE ABCs OF ONLINE DATING follows the adventures and misadventures (mainly misadventures) of 3 roommates who try to navigate the highly unpredictable world of online dating. Each of them discover that when it comes to e-romance, not every guy lives up to his potential.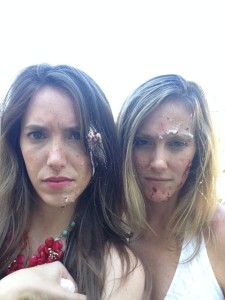 In addition to the comedic situations and characters presented in each episode, viewers can contribute their own hilariously true "horror stories" of online dating through the "contact" section of the show's website. (More on that later).
The series stars Ariana Almajan as Ava, an artist who pretty much lives life on her own terms. She's roommates with her longtime childhood friend Cara (played by series creator Allison Howard), who's recently struggled to overcome a painful breakup with her ex-boyfriend. A professional event planner who's seen many a couple set up their wedding days, Cara wants so much to have her own moment at the altar.
Meanwhile, their roommate, and the B in the ABC triumvirate, is Bree (Melissa Temme). An accountant by trade, Bree is also reeling from her recent breakup with longtime boyfriend Brian. While Ava serves as something of a voice of reason in the group, Bree overcomes initial conflict with Ava and Cara and works to support them through thick and thin.
After suffering the heartbreak of love, and desperate to find the one man she wants to spend her life with, Cara decides to take matters in her own hands. To that end, Cara suggests that she, Ava and Bree try their luck in online dating. From there, they each dive head first into the rough waters of finding their love match in cyberspace.
Howard was inspired to create THE ABCs OF ONLINE DATING after hearing about some of her own friends' unbelievably true stories of the good, bad and ugly aspects of online dating. "The idea actually came from three of my friends (who shall remain nameless) but whose names start with A, B and C," she recalls.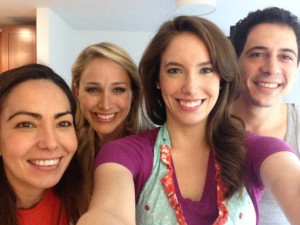 "All three of them were on online dating sites and they each had some of the most hilarious, entertaining and embarrassing dates I had ever heard, and they were going to make a blog out of their dates," adds Howard.
"The turning point for me, as a filmmaker, was attending Cannes. Only then did I think it was possible for me to create my own content and my first idea was this web series."
Howard gained valuable insight from fellow filmmakers. As she explains, their advice proved to be crucial in the development of the series.
"A film I was in was accepted into the Short Film Corner at Cannes," Howard recalls. "I had the opportunity to talk to producers, directors and other film professionals that I was otherwise isolated from while acting on set, and they all encouraged that if I had an idea, that I run with it."
For Howard, the trip to Cannes proved to be a major step forward in her development as a filmmaker, and in the creation of THE ABCs OF ONLINE DATING.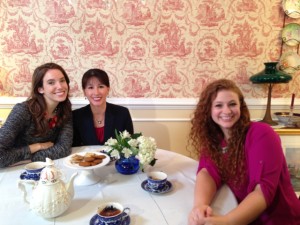 "If I hadn't ever gone to Cannes, I never would have seen the work my peers were creating and I never would have been inspired and encouraged to create my own," she says. "I am so happy I went on that trip and opened my eyes to the other side of the industry that waits behind the camera."
Once Howard returned from France, she immediately sought the advice of her friends as she sought to create THE ABCs of ONLINE DATING. "That was when I then asked my friends if I could take their ABC idea, and it all sprang from there," she adds.
While some of the stories and situations presented in her series are based heavily on the real life experiences of her friends in online dating, Howard emphasizes that she did not base her characters on anyone in particular.
"I do want to note that none of the characters are based on any one friend. Instead, I decided to make three individual characters who everyone could look at and say 'I know a girl like her' or 'oh man, that's me'. I thought that was the most strategic move in providing appeal across the audience."
While some shows typically stand as a passive viewing experience, THE ABCs OF ONLINE DATING encourages interaction between the show's production team and its viewers. Many of those viewers have added their own hilarious stories of online dating mishaps to each episode of the series, and viewers can do so through submitting to the show's "contact" section on its official website.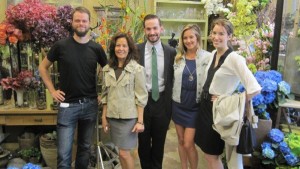 It's a part of the show that Howard believes sets hers apart from similar web series.
"The biggest difference between this show and others is the ability for the audience to collaborate and contribute stories that can be used as bad dates in the episodes," she says. "When I did the first four, I used my friends' bad dates in the episodes. But once I opened the floor for fans to contribute, that changed the game completely."
Howard and her production team immediately saw the benefits of adding the show's audience to play a part in each episode. "By allowing the audience to contribute to the show, it put their skin in the game and widened my audience even more since I knew that they would share the episode once it was published," she adds. "Also, by having people contribute it allows for the show to continue endlessly since there is always going to be fresh content."
Although each true-to-life story of dating disasters helps make each episode of THE ABCs OF ONLINE DATING memorable and hilarious, Howard says that she had to tread lightly when it came to staying true to both the fan contributed content and the show's overall storyline and characters.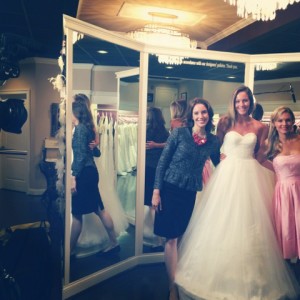 "The show itself is supposed to be very light-hearted and comedic while also being true to the stories that the dates are based on," Howard says.
"Since everything is based on true stories, I had to be sensitive to each contributor by staying true to the story while also finding the humor in it, even if the contributor described it as painful at the time. I also had to be concerned with how these stories impacted each character, the plot and friendships between the girls.  It was a lot to juggle."
The casting process for THE ABCs OF ONLINE DATING was relatively easy for Howard, who relied on her past relationships with several of the show's actors, as well as her friendships with others she had worked on in the past.
"I held two casting calls and also had known many people from working in the area for a couple of years. I met Melissa on a short film that was filmed the weekend prior to our second auditions and Ariana came in during the second auditions as well," Howard says. "All of the guy roles were cast from people I had known or people who were referred to me through friends.
As production of the show's 12 episode first season began, Howard quickly learned just how hectic and unpredictable the process of bringing a web series before the cameras could be. Eventually, she says, her cast and crew would soon find their groove.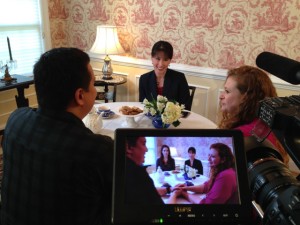 "The first 4 were done within a reasonable time frame. I believe they were shot in consecutive days over the course of 3 months, but these last 8 took much more time to coordinate," she says.
"We had multiple locations, difficulty finding time for actors and the production team to be available but we got through it with persistence and flexibility."
Thanks to the hilarious stories and characters portrayed in each episode, Howard believes that THE ABCs OF ONLINE DATING has strong appeal to all those who've ever tried to play the field on the web – regardless of how successful or unsuccessful they've been at it.
"This show definitely caters to women in their 20's and 30's who are currently on online dating sites or are in relationships and have friends who are online dating," she says. "I also believe this could be something men could enjoy watching and it could be an insight into a woman's mind, or at least that's what one of my friends said!"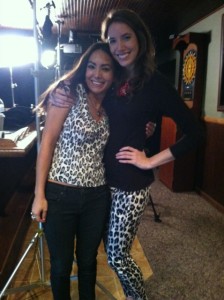 At its core, though, THE ABCs OF ONLINE DATING is about relationships and the ups and downs of dating.
"This show is a combination of GIRLS, FRIENDS and THE GOLDEN GIRLS – all three shows exhibit friendships and relationships and encompass an 'inner friend circle'," adds Howard. "The 'inner friend circle' is key to the survival of each character as we watch different romances come and go from each of their lives."
Overall, Howard hopes that viewers of THE ABCs OF ONLINE DATING will get much more out of it than just great comedy. As she describes the show's theme, she hopes that anyone who's ever tried to find that special someone in cyberspace will relate to the situations and stories that are found in each episode.
"Online dating can be rough, and this show hopefully is cathartic in a way for those doing online dating at the moment, so that they can also see that other people are having bad experiences too," she says. "It also just brings the comedy to every situation, instead of harboring pain or disdain for the dating process that everyone endures today."
(Note: Regarding closed-captioning, Howard says: "At the moment, the show is not closed-captioned, but I would love to create closed-captioned options so that everyone can enjoy the show.")
Episode 1 of THE ABCs OF ONLINE DATING can be viewed here:
ON THE WEB: www.abcsofonlinedating.com
YOUTUBE: https://www.youtube.com/channel/UCGGQKnNlf0p2z4DfsSbZZGQ
FACEBOOK: https://www.facebook.com/abcsofonlinedating
TWITTER: https://twitter.com/ABCOnlineDating