One of the most imaginative, visually dazzling and constantly entertaining web series currently streaming is THE ADVENTURES OF THE LEAGUE OF S.T.E.A.M., now in its third season on its official web site and Youtube pages (see links below). Having launched in 2009, the series follows the adventures of an elite group of Victorian-era scientists, inventors, machine designers and explorers who team up to fight the forces of evil – no matter who they are, or where they lurk.
In the series, the League of S.T.E.A.M. (Supernatural and Troublesome Ectoplasmic Apparition Management) is led by "crackpot inventor" and non-lethal weapons specialist Crackitus Potts (played by Nick Baumann), plus a talented, dedicated team of experts: tactical coordinator Lady Ameliorette Potts (Robin Blackburn), zombie hunter Baron von Fogel (Andrew Fogel), werewolf hunter Jasper Mooney (Duane Matthews), and "undead pulverizer" (or, in layman's terms, zombie killer) Katherine Blackmoore (Kate Walsh).
The team also features vampire slayer Sir Conrad Wright III (Conrad Wright, Jr.), League historian and spectral (ghosts) specialist Albert Able, Esq. (Trip Hope), and the loyal zombie majordomo Zed (played by Russell Isler, who also portrays Zed's twin brother Thaddeus), plus Ellie Copperbottom (Sheyne Fleischer), and Coyote (Glenn Freund), co-founders of W.A.T.C.H. (Worldwide Alliance For The Tracking Of Creatures and Haunts).
Working as both actors, filmmakers and designers in a variety of capacities, the League has won numerous awards (3 International Academy of Web TV awards, the 2013 Geekie Award for best horror/supernatural web series, just to name a few), along with the admiration and praise of media critics, actor Ernie Hudson (Winston in the GHOSTBUSTERS films) and live audiences at various comic-cons and other events.
The LEAGUE OF S.T.E.A.M. web series has also been a huge hit with viewers, and with guest stars like Phil LaMarr (PULP FICTION, JUSTICE LEAGUE, FUTURAMA), VIDEO GAME HIGH SCHOOL's Bryan Forrest and Chloe Dykstra (SPIDER-MAN 2), season 3 is filled with action, comedy, monsters and plenty of song and dance. Wait…song and dance?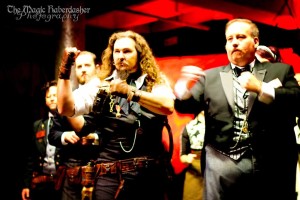 That's right. LEAGUE OF S.T.E.A.M.'s season 3 finale, now streaming on its official web site and Youtube pages (see links below), features what may be the most ambitious undertaking ever attempted by the group: a steampunk musical.
The episode, now available to stream at this link (and embedded for viewing at the end of this article), had its world premiere screening last Monday (April 4th) at the Brussels International Fantastic Film Festival, with further public showings to come at various sci-fi conventions and film festivals. It made its online debut this past Thursday (April 7th).
With memorable songs, elaborate dance sequences, props and costumes, this episode of LEAGUE OF S.T.E.A.M. continues in the footsteps of both classic Broadway musicals, plus the fondly remembered "Once More With Feeling" episode of BUFFY THE VAMPIRE SLAYER, and the musical web series DR. HORRIBLE'S SING-ALONG BLOG (both created by Joss Whedon).
Yet, as I found out from series executive producer Hope and props designer Matthews, their effort for LEAGUE OF S.T.E.A.M. (episode title "The Invitation To Armageddon") is unlike all the others that have preceded it. In that episode, guest star Carlos Larkin (voice actor from the popular video game WORLD OF WARCRAFT) plays the Devil, who challenges the League to an epic singing showdown – with the fate of all mankind at stake.
Perhaps the biggest thing that sets it apart from its predecessors is that it may be the first steampunk musical ever produced. In fact, several episodes during this season feature original songs written for the series. Here, Hope and Matthews discuss how the LEAGUE OF S.T.E.A.M. musical all came together, plus the challenges and triumphs that they experienced during the making of the episode itself.
What (or who) inspired you to create the musical episode? How did that concept come about?
Trip Hope: Our group loves musicals! We've been inspired by mainstream musicals like INTO THE WOODS, WICKED, THE SOUND OF MUSIC, and SWEENEY TODD. We've also been inspired by musical episodes of TV shows, such as BUFFY THE VAMPIRE SLAYER's 'Once More, with Feeling' and Joss Whedon's DR. HORRIBLE'S SING-ALONG BLOG. We'd floated the idea for a while, but finally got serious about it during pitches for season three and our Kickstarter campaign.
While we're all performers within the group, only a few of us have ever performed in a musical before, so we really jumped into the deep end without knowing if we could really pull it off. Many of us are not even singers, but we can at least somewhat carry a tune. So we knew this was all going to be a major challenge, to say the least.
The story idea for the musical episode came from Russell Isler, who'd created an archive item for The League of S.T.E.A.M. several years ago called The Invitation to Armageddon – it's a hand written letter with everlasting ember-glowing burnt edges penned by Lucien Morningstar (The Devil) inviting The League to witness the end of the world.
Since The League is always dealing with monsters and supernatural forces, having a face off between The Devil and The League just seemed like a great season finale episode – and why not do it as a musical?
Duane Matthews: The idea for a musical stemmed from a more internal (the League) place for me, only because I am not that familiar with musicals. We had talked about the idea for a bit, and because we decided to try some new things this season, we thought, why not?
What was the production process like for it (writing the script and original songs, recording the music, casting, etc.), and what kind of music can viewers hear in the episode?
Trip: We started off with the script. Russ and Nick developed a story and presented it to the group for notes. It went through several revisions. The group decided we wanted an outside director, since we'd all be performing in this episode. We were seeking a director with experience with comedy and musicals. First we approached a director who'd done a couple musical shorts, but our schedules just wouldn't sync.
But he did hook us up with an amazing composer and lyricist team: Kenny Wood – Composer (SUDDEN DEATH!, RESEARCH., I HATE IT!) and Kahle McCann – Lyricist (SUDDEN DEATH!, THE GOOD RIVER). Kenny and Kahle have been absolutely amazing and inventive. They've created six completely original songs and they've got a Broadway Danny Elfman-esque feel to them. Kenny recorded all the songs with the cast and orchestrated music for all the songs after filming was complete.
We were challenged to find a director willing to take on this huge commitment, but then I discovered one of my good director friends, mostly known for horror/sci-fi/action, had always wanted to do a musical. My director friend Paul Hough (THE HUMAN RACE, THE BACKYARD, THE ANGEL) took the helm with only a couple weeks before filming and we had a pretty crazy ride!
Two of our choreographer/dancer friends (Kasmira Buchanan and Jessie McGraw) came in to create some simple dances, since none of us are really great dancers – this required many rehearsals – along with many singing rehearsals too.
Casting for The Devil was a major hurdle. Our first potential director was going to bring in an actor with a pretty big name, but he suddenly got a big job. Then, I approached several of my professional actor friends, but they were not available. Finally, we got lucky and one of our main crew members had a professional actor friend that turned out to be a better singer than anyone we'd considered.
Carlos Larkin, known for his brogue voice work as many distinctive characters in (the popular video game WORLD OF WARCRAFT), is an absolutely kooky, charismatic, and fiendish Devil who delivers complex and rich vocals with great mastery.
Duane: The process was very different from anything we have ever attempted. We had to call in many favors to have songs written, (along with) recording the music and other things that are typical of a musical. We are fine with writing scripts, but this one was in constant flux to accommodate the music.
What were some of the easiest parts of producing the musical episode? What were the hardest (if any)?
Trip: The easiest part was just excitedly saying, "Yes! We're going to do a musical!" While we knew it wouldn't be a cake walk, I don't know if we fully appreciated what a monumental task compared to other episodes that this was going to be. Fortunately, we also have extensive wardrobes for our League characters, so we were pretty much set with our costuming.
There have been many hard challenges in producing a musical. Our budget was so frugal, (plus) the majority of our cast & crew were volunteers, and while they were well fed, it's a huge sacrifice to ask a large cast and crew to commit to shooting for six days over several weekends. There were also over 80 people involved in this musical – it's a lot of work to coordinate with a lot of people. 
Since this is a very visual effects heavy episode for us, the post production VFX work for (visual effects designers) Russell Isler, Paul Hough, R. Christopher Biggs, and Colin Foran has been daunting. I think building the roller coaster was a huge nightmare for our production designer, Kate Walsh – but she did an amazing job.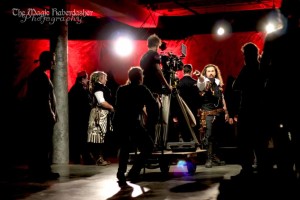 Finding a location to shoot our Hell scenes in was really tough, but my friends at (Los Angeles-based) Vanaheim Studios came through, and were willing to work with our very limited budget. We may have stretched ourselves beyond our resources, but we managed to make things work!
Duane: I really can't think of any easy parts of making this episode. Because so many things were new to the majority of us, it was hard to keep pace. We really stepped out of our comfort zone for this one.
Since lots of other TV shows and web series have done musical episodes, what (if anything) sets yours apart from the others?
Trip: I believe we're the very first steampunk themed musical for TV or web series. Our production design and costuming will certainly impress. I think the music itself is way beyond our greatest expectations, and considering it's all original and very entertaining is a huge plus. And our visual effects will be beyond what most web series would dare to deliver.
Duane: No doubt, there are many similarities to other TV show musicals, but what sets us apart is the fact that we were building props, costumes and all the internal elements of making the episode, which I don't think that the other shows would have their talent (stars) doing. And we still had to learn our lines, how to dance, sing and prep the craft services table.
Will there be a soundtrack available (on CD or download)?
Trip: Yes! We will make a soundtrack available! Definitely for download. The musical will soon be available on DVD with all of season three and lots of behind-the-scenes extras.
Is the show closed-captioned for deaf and hard of hearing viewers? If not, will it be closed-captioned in the future?
Trip: Currently all of Season One and Two are closed-captioned and we're working on doing the same for Season Three. The musical will be released with closed-captions, and with options to watch with Spanish or French subtitles. We're doing our best to expand our audience!
The League's musical episode can be viewed here:
ON THE WEB: http://leagueofsteam.com/
YOUTUBE: https://www.youtube.com/LeagueOfSTEAM
FACEBOOK: https://www.facebook.com/LeagueofSTEAM/
TWITTER: https://twitter.com/leagueofsteam