As Frank Sinatra memorably sang of New York City, "if I can make it there, I'll make it anywhere." Of course, for any actor who attempts to make a splash in the Big Apple, making it in a city that's bustling with aspiring performers looking for their own big break can be just as difficult as trying to navigate through the unique quirks and eccentricities of New York itself.
It's a challenge that a young actor named Nicki (played by Magan Carrigan) faces head-on in the new comedy series SOLID 8, co-created by Carrigan and co-star Taylor Williams, and now streaming its first 3 episodes (out of 10) via its official web site and Youtube pages (see additional links below). As of this writing, funding for the remaining 7 season 1 episodes has yet to be raised, and Carrigan says that there are plans for at least 3 more seasons of the series.
SOLID 8 takes a humorous and memorable look at the many highs and lows that come when climbing the showbiz ladder, as seen through the eyes of Carrigan's protagonist. Through uncomfortably awkward auditions, shoots and encounters, Nicki does her best to not only succeed in the uber-competitive world of acting in New York, but also tries to balance her work life with an equally eventful life at home.
Sharing an apartment with her playwright boyfriend Dylan (played by Williams, who in real life also happens to write for the stage), and her close friend/director Justin (played by Danny Gorman, who also directed SOLID 8), Nicki soon finds her public and personal lives colliding when the same men she lives with occasionally become the same professionals she collaborates with.
A comedy series that features characters and situations that any aspiring actor can easily identify with, SOLID 8 is also a show that's based in part on Carrigan and Williams' own personal memories of the struggles they faced while trying to break into a notoriously difficult business.
Already deep into their studies at New York's Actors Studio Drama School, Carrigan and Williams found inspiration to create SOLID 8 not just from their experiences, but from an acclaimed feature film that covered much of the same ground as their series would.
"After seeing (the 2014 Sundance Film Festival feature) OBVIOUS CHILD at BAM (Brooklyn Academy Of Music) in Brooklyn, we were so excited about how good that movie was, and about Jenny Slate (actress/comedian/former SNL cast member), and about comedy in general," remembers Carrigan. "As we were walking home, we ended up pitching each other scenarios, which led to a rough outline of a semi-autobiographical comedy about being an actor in New York."
At first, though, neither Carrigan nor Williams initially planned to do it as an ongoing episodic comedy. Yet, with the abundant potential for wacky stories and characters to develop, the show's co-stars/co-creators would take advantage of the web series medium. "We originally intended it to be a small project that we could just film ourselves and use in reels, but it kept growing and growing into the web series it is now," adds Carrigan.
It was that same true-to-life, yet decidedly exaggerated depiction of Carrigan's life as an actor which served as the hallmark for every episode of SOLID 8. "My experiences as an actress are definitely the basis for every plot line, but it is also more extreme than reality," she says. "Like every actor has a story about how they had a terrible time doing background on a commercial set, but Nicki's involves her getting stuck behind a plant. That said, we try to be truthful about what these experiences are – we want it to be relatable and, ultimately, hopeful."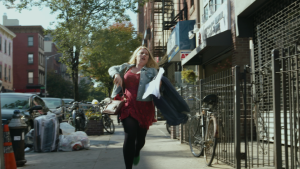 Describing SOLID 8's brand of comedy as falling "somewhere in between reality and pure fiction," Carrigan provides one primary example (among many) of how a relatively simple, common moment from her own daily life served as a jumping off point for her and Williams to transform it from the mundane to the utterly absurd.
"We have an episode ('12 Angry Femmes', episode 5) where Nicki gets lost in the West Village," says Carrigan. "I tend to get lost in the West Village pretty much every time I go there by myself, but I don't get lost to the point that I end up accidentally at the water, or crying outside of a bakery while eating a cupcake to calm myself down because I'm lost while trying to get to an audition – that's the fiction."
Making SOLID 8 even more effective is that unlike most TV/web-based comedies, Carrigan and Williams' series truly reflects the difficulties – and often awkward situations – that young adults face in their own daily lives, regardless of the professions they hope to succeed in.
"No other show or movie is based off my life, so we've got that going for us," says Carrigan. "Really, I think the difference in SOLID 8 is that it's setting out to find an audience with millennials so that we can unpack and laugh at the weird circumstances we were dropped in."
SOLID 8 reaches its target audience – millennials – in large part due to its characters and the humorously awkward situations they face throughout the series. As Carrigan explains, its distinct style of humor and storytelling, plus her realistic portrayal of a character who faces many of the same problems that young adults face each day, are crucial elements that make SOLID 8 unique.
"There's so much great TV right now, but there isn't much that speaks directly to the miserable 20-year-old, who's trying to figure it out but doesn't have a road map. She's lost and no one in her family is taking it seriously because they were brought up differently," Carrigan says. "There's so much pressure to over succeed because competition is so fierce, while simultaneously being held down by a difficult economic time."
In an increasingly uncertain world, SOLID 8 also serves as a reminder of how competitive life itself can be – no matter what profession we hope to succeed in.
"Our lives are in constant flux as we watch society fall apart, and we're working two jobs or doing our fourth internship because entry-level jobs don't exist anymore," adds Carrigan. "But we all have to be successes, we have to. This anxiety is the underlying theme of SOLID 8, and I don't think there's another show out there that addresses the existential nature of it all so directly."
Working alongside a crew of 30, and with a majority of the cast hailing from the Actors Studio Drama School, Carrigan filmed a majority of SOLID 8's scenes (so far with episodes 1 and 3) in her own New York apartment. With such a large crew, and with miles of production equipment surrounding her apartment, Carrigan did her best to navigate around an already cramped space as production got underway.
As it turned out, it was yet another example of how SOLID 8 managed to reflect both the fantasy of Carrigan's fictional persona, and the realities of her own life as an actor/filmmaker.
"Our series director, and the actor who plays Justin (Gorman), actually lives with Taylor and I in real life, so you're seeing a peek inside of our domestic dynamic through the weird lens of the show," recalls Carrigan. "During shooting, it was kind of surreal walking around our home while trying to climb over film equipment to get to craft services, though it was pretty incredible to see those worlds collide."
The unexpected guests also made life interesting for at least one important, yet highly temperamental member of Carrigan's household. "My cat, Princess, hated having the crew in our bedroom, but she would rarely meow while we were rolling," Carrigan adds. "She would wait until Danny yelled cut before she'd start howling about how terrible we all are. She was also in the episode so maybe she was just trying to preserve her position in the show."
Despite whatever difficulties that may have arose, SOLID 8's shoot was a successful one thanks to the talent and dedication of Carrigan, her cast, crew, and one key member of the show's production team. "Really, the reason everything went so smoothly is because we were lucky enough to have an incredible producer, Emily Marquet, who worked tirelessly to budget, schedule and hire people for these shoots," says Carrigan. "Having someone who had such strong skills in production was integral to our success."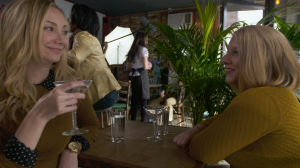 The significance of having managed such a large crew was not lost on Carrigan, who says that the experience of bringing SOLID 8 to life, and the daunting task of overseeing a team of 30 filmmakers throughout the shoot, gave her a significant appreciation for the process of producing and writing the series.
Given that this was the first time she was in charge of such a sizable crew, the knowledge and insight she gained throughout SOLID 8's production impacted her both as an actor and a filmmaker. "Feeling a sense of responsibility for that many people really helped me mature, and it made me more aware of the way I worked both as a filmmaker and as an actor," she says. "As an actor, I think it's made me more efficient because I was a lot more aware of how much was going into any given moment."
Working on SOLID 8 also enhanced Carrigan's rapport with her castmates. "I think it also made me a more generous scene partner, because that feeling of responsibility motivated me to create the best working environment I could for everyone, including my actors," continues Carrigan. "I felt like it was super important to make the environment as relaxed but professional as possible, so everyone had room to do their best. It does get stressful at times, but it's also more rewarding than anything else I've done so far."
With that experience in mind, Carrigan advises future web series creators to take as much time as they need to make sure their projects run smoothly, as well as efficiently, without putting undue pressure on themselves to get their work out quickly. "The first thing that sprung to mind was this: don't rush anything. You're the boss, and it's your timetable, so do not push for a deadline you can't meet."
That being said, the importance of creating content that's both entertaining and well-produced is also crucial for anyone who seeks to make their own mark on the growing world of scripted online series.
"No one is going to take you seriously unless you're putting out professional quality work, and that level of quality takes time," adds Carrigan. "We started writing SOLID 8 in October of 2014, and it took almost exactly a year to get to shooting. After shooting, it still took another four months in post production."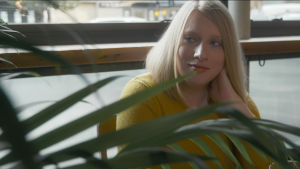 Over that period of time, Carrigan and her production team knew that making SOLID 8 look and sound the best it could be was just as important as the acting, writing and directing.
Based on the extensive post-production process that the series underwent for its first 3 episodes alone, Carrigan stresses just how big of a difference making a web series look and sound good can make.
"It will always feel like there isn't enough time, but you have to remember that you're in control of the timetable. Don't push it off into infinity, but if you know that you won't have enough money to pay a good audio mixer, then wait until you can," she says. "The last thing you want is to put out something that looks or sounds half finished after all the time and effort you had already put in. Give yourself as much time as you need to make your project as great as it can be."
With comedy and characters that will appeal to any adult (young or older) who's ever struggled to find his or her place in a complex world, as well as anyone who's struggled to achieve professional success, SOLID 8 proves that while real life can have as many twists and turns as any great drama, it's how we look at those slings and arrows of outrageous fortune that can make all the difference.
"No one's perfect. Being an adult is hard, living in a city is hard, (and) pursuing your dream is hard. But we make mistakes, and stumble through it, and somehow manage to continue on to another day," says Carrigan, describing the show's theme. "I want people who watch this show to see themselves in it, and while they're watching Nicki just get back up and keep trying over and over and over again, they feel more capable of doing that too."
Note: Regarding closed-captioning/subtitling of SOLID 8, Carrigan says: "Right now the show isn't closed-captioned, but we want it to be. Taylor just assured me that he's in the process of researching it, so hopefully that'll be up and running soon!"
ON THE WEB: http://solid8series.com/
YOUTUBE: https://www.youtube.com/channel/UCQzK5Mfsfp7Pq2yfB8B05Hg
FACEBOOK: https://www.facebook.com/Solid8Series/
TWITTER: https://twitter.com/solid8series