Thanks to the shocking triumphs of Brexit and U.S. President Donald Trump, as well as the disturbing rise of far-right governments internationally, it's only taken a year for the world to be turned on its head.
Who can possibly make sense of these consequential events, and of the everyday aspects of life? Apparently, neither the beleaguered host nor the buffoonish guests of a fledgling podcast in the new Trash Arts Productions comedy RIGHT HERE, RIGHT NOW (or RHRN).
Created by THE MAKING OF's Sam Mason Bell, RHRN streams its monthly episodes on Trash Arts' Youtube page and on the Versus Media network (available on Amazon Fire TV, Roku, Apple TV and other set top devices).
The series takes a memorable look at the doings of an inept team behind a current events-based podcast; one titled, of course, RIGHT HERE, RIGHT NOW.
This crew is led by the opinionated host Mick Riggers (Jackson Batchelor), who seems to be the only professional compared to his clumsy colleagues: guest booker Marty (Simon Berry), wiseass sidekick Kevin Decline (Spencer Craig), and talented rapper/poet Krishian (Rishky Patel). A newcomer to Mick's podcast, Krishian soon makes a name for himself, while threatening to steal the spotlight from Kevin.
In a time where international politics causes as much anxiety as the typical problems we deal with each day, topical satire has been booming across every form of media.
Sensing a chance to make his own mark on current events-based comedy, Bell merged his creative talents with his ongoing awareness of domestic and world affairs to make RIGHT HERE, RIGHT NOW possible.
"The show comes from the world constantly changing and in a state of confusion," Bell says. "Being an activist, I wanted to be able to discuss the issues I can see, but (while) making sure the humor is just as important."
While politics is prominently examined in several of RHRN's episodes, the series presents a panoply of different subjects. "Topics have ranged from feminism, elections, media, war, national security, (to) the Royals, hacking, science, music, fracking, and even pedophilia, with new topics monthly," adds Bell.
Bell's brief experience behind a radio microphone, and his admiration for the backstage humor of the classic Garry Shandling comedy THE LARRY SANDERS SHOW, set the tone for RIGHT HERE, RIGHT NOW's episodic style.
"I briefly worked on local radio as a sidekick character when I was a lot younger and more naive, but I never really listened to any podcasts," he says. "I just wanted to translate THE LARRY SANDERS SHOW to a news podcast."
Although RIGHT HERE, RIGHT NOW's topical humor focuses on a variety of issues, the fictional personalities who appear to discuss those stories have some things in common with actual figures from various walks of life.
"The show's guests sometimes have basis in reality, such as local MP politicians, crazy conspiracy theorists a la Alex Jones, and local musicians," Bell adds. "Most of the guests mock news trends, instead of being based directly on people."
As RHRN takes place in Great Britain, Bell and his cohorts have a front row seat to the political chaos that Brexit and overseas events has generated in their country.
Its social point of view gives RHRN a sense of authenticity not otherwise presented in other comedies. "RHRN keeps a bitter satirical look on being working class in Britain, (while) looking at the bigger picture," he responds. "This (perspective) is rarely seen from the actual working class."
Yet, Bell is convinced that RIGHT HERE, RIGHT NOW's combination of topical satire and character-based situation comedy will touch audiences from all social demographics. "I think those with a political mind, (and) fans of John Oliver (would like RHRN)," he replies. "An international audience will hopefully appreciate the madness of Britain right now."
Alongside RHRN's comedy, music and poetry also has its place in the show's presentation. Bell provides a generous amount of both in each episode. "We have a song of the month where we play snippets (of it), and have had musicians, poets and rappers perform a song on (a) previous show," Bell explains.
Remarkably, one member of the show's cast has also been part of its soundtrack. "Rishky Patel himself is a rapper in the act Naan Breddaz, so we try to incorporate a lot of his music in it too."
RIGHT HERE, RIGHT NOW was the perfect opportunity for Batchelor to become the frontman of his own series, and Bell would find him to be the perfect actor to play its frustrated lead character. "After shooting THE MAKING OF, Jackson Batchelor wanted to act more," Bell remembers. "Coming from more of an acting background, he was eager to lead a show."
While Batchelor, Spencer and Simon had previously worked with Bell on his last series, a mix of past collaborators and undiscovered performers would join forces to comprise RIGHT HERE, RIGHT NOW's cast.
"The idea was to try (to) give more of a showcase for the actors who cameoed in our other shows," says Bell, who explains the methods of his casting process. "Once a month, I simply advertise for actors on social media, using some from other shoots and fresh new faces."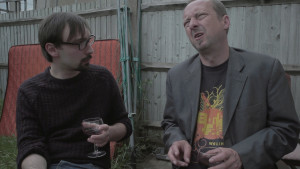 When today's headlines and headliners can rapidly become yesterday's news, producing a topical comedy series is hard enough.
Doing so with little to no money makes that job even tougher, and it also makes the task of creating weekly content practically impossible. Understanding this, Bell and his growing production corps chose to make RIGHT HERE, RIGHT NOW as a monthly series.
"When we first started the show, I intended it to be weekly to keep up-to-date with news. On zero budget, we decided after 6 episodes to make it monthly, with no end point," Bell recalls. "The show takes roughly 5 hours to direct from bullet points. (We've been) bringing in different directors for episodes, working mostly with first-time filmmakers. The cast jokingly refers to the show as a 'soap-com'".
As the latest addition to Trash Arts' comedic catalog, RIGHT HERE, RIGHT NOW gives audiences the chance to understand complicated issues in a form that's become more relevant than ever: satire. For Bell, RHRN may be the series that proves to be his most rewarding creative venture.
"With this show, I hope to achieve a true legacy with it. It is created for the love and fun of it," he says. "Recently receiving messages from fans asking us to discuss topics has made me feel it has no real end."
To watch RIGHT HERE, RIGHT NOW's first episode on Versus Media, visit:
https://www.versusmedia.com/series-episodes/191819683
YOUTUBE (playlist): https://www.youtube.com/watch?v=mS-iE6RhhCE&list=PLZdXgKeoEbLo7s65eZfFbRL-tdf6CaxRQ&index=6