Eschewing today's typical whiz-bang, quick cut filmmaking approach for a strict back-to-basics style that relies on the fundamental elements of cinematic storytelling, filmmaker Andy Lambert's award-winning THE MUTE SERIES has proven how even the most offbeat moments of life can become the most entertaining.
Written and directed by Lambert, and produced by London-based 76 Films Ltd, THE MUTE SERIES launched three new vignettes on May 9th. Like the other 12 films in this collection, these latest stories capture unusual yet fascinating situations by working within a well-constructed set of boundaries: one camera, one take, no dialogue. All 15 films can be seen at the series' web site, which is linked to at the end of this article.
These short films include "The Gents", which presents one man's humiliating battle with dandruff, plus the hitchhiking tale "Rule Of Thumb", and "Turn On", the first MUTE short that's based on adapted material from another source – cultural theorist and social observer Slavoj Žižek. "Turn On" focuses on a moment of sexual exploration between a man and woman, with the results of their journey as unexpected as the ways they express their love.
With "The Gents", "Rule Of Thumb" and "Turn On", THE MUTE SERIES expands its stories of life at its most intriguing. As the series' writer and director, Lambert finds inspiration from places and experiences that are frequently as inexplicable as the stories he ends up telling in each film. "The Gents" is an example of that fact.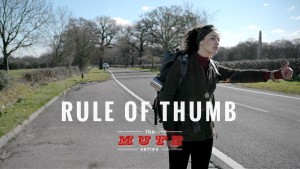 "I am inspired from a wide array of things," he says. "Sometimes I sit down and try hard to write scripts for MUTE. Other times, an idea literally pops into my head. (It's) pretty much fully-formed. The idea for "The Gents" was one of those. I was in a queue at the airport, standing behind someone with dandruff. I suddenly came up with the story!"
On the other hand, Lambert found the right story for "Rule Of Thumb" by reminding himself of the importance of keeping everything simple for the film – including the script. "I wrote half-a-dozen scripts based around hitchhiking, all with a slightly different feel. Some of the scripts started to get a bit too complicated, and so, in the end, I went for a simpler, if somewhat enigmatic, version."
Though just about anything can be gleaned from its story of a revolving group of people who just want to get a ride, "Rule Of Thumb" has had universal appeal to those who've seen the film. "The 'Rule of Thumb' is deliberately mysterious, but people have really reacted well to it, seeing it as a metaphor for the random ups-and-downs of life. Someone even described it as "a collective Sisyphus myth", which sounds good to me!"
Compared to "Rule Of Thumb", "The Gents" uses its absurd situation to show how human beings can occasionally act in ways that result in "edgy" reactions from others. "The Gents" has the flavor of an urban myth and it might seem to have the most straightforward meaning of the new batch, but I tried to make the casting a bit of an unexpected reversal, which hopefully comments on the supposed 'rebelliousness' of certain illicit behavior. It really made me laugh while we were shooting it!"
While "Turn On" looks at some of the weird yet practical ways that men and women embrace their "wild side" in the bedroom, it's a story that underscores how technology has changed how people intimately conduct themselves. From a human perspective, Lambert adds, the film touches on one of the most common fears shared by every romantically involved person: the fear of being unable to have good sex.
With Žižek's perspective on society as interesting to Lambert as it's been to many of Žižek's followers, the acclaimed philosopher's humorous thoughts on romance helped to spark Lambert's intentions for "Turn On". As mentioned before, "Turn On" is the first time that Lambert has used existing material as a story source for a MUTE film, with a notable moment from one of Žižek's recorded lectures having captured the filmmaker's attention.
"I was looking at some of the videos of him on YouTube (of which there are many) and came across one where he made a joke about what he considered (to be) the perfect date," remembers Lambert. "I don't want to give too much away, so I won't go into the details of it, but, needless to say, I thought it was hilarious. it was only later that it struck me that it could make an excellent MUTE, meaning that dialogue wasn't essential to the idea, it could be done all in one static shot and it wouldn't go on for too long."
After Lambert received Žižek's emphatic blessing to use his idea as the backbone for "Turn On", the film's production went forward. Though we won't spill the beans on the exact workings of Žižek's hypothesis here, we will talk about how Lambert visually paid homage to Žižek's work in "Turn On".
"For Žižek, the idea has a very specific meaning to do with his particular theory about the post-modern super-ego (something I tried to allude to with the poster that hangs on the wall above the sofa.) But, it seemed to me it could have all sorts of interpretations which is why it was such a good joke. You certainly don't need to have even heard of Žižek to find it funny!"
While making "Turn On" was a new experience for Lambert as a screenwriter, the successful end product that came out of it has motivated Lambert to pursue similar opportunities for adaptations as THE MUTE SERIES continues.
"It was the first time I've adapted existing material and I think it was an interesting way for me to keep things fresh and also to tap into another world (in this case, cultural theory) in order to expand the fan-base of MUTE," Lambert responds. "I'd be keen to do that again in the future with another source."
Even the cast and crew for "Turn On" reveled in the hilarity of Lambert's script for it. "The shoot for that film was great fun," adds Lambert. "The actress said it was the funniest shooting experience she'd ever had! Again, in the interest of not spoiling it, I can't go into details, but we were all amused on set, which is usually a good sign."
Though Lambert's vignettes stay true to the no-frills style he's worked with in the past, there was a multitude of production challenges that he and his crew have dealt with on each MUTE shoot. For Lambert and MUTE fans alike, the simplistic visual techniques found in each film have predictably led to further difficulties.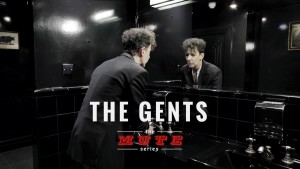 "As always, the staging and the timing are the big problems," he explains. "The other frequent problem with my self-imposed restraints is that every film is generally captured in a wide shot, so smaller objects can be hard to see. This is even more critical when you consider that many viewers are watching things on mobile phones nowadays. It's actually become a perceived problem, in general." 
Aware of that problem, Lambert decided to put key objects – or "toys", depending on how you look at them – front and center during the production of "Turn On". "Of course, wide shots can still be understood and appreciated on the small screen. Nevertheless, maybe this contemporary conundrum was playing on my mind, so for 'Turn On' I was keen to have the key props end up close to the camera."
Getting a few four-wheeled objects on camera made filming "Rule Of Thumb" an even bigger test for Lambert and his on-set cohorts. "With 'Rule of Thumb' it took a bit of practice to get the vehicles in and out of shot quickly – especially as it turned out that one of the actors hadn't actually driven for eight years! The first take was about four minutes long," he says. "I was also a little concerned that where we placed the camera meant that we would only ever see the backside of the featured cars. But in retrospect, I think it worked really well in the end."
Despite the inherent challenges of its production style, Lambert feels that THE MUTE SERIES' simplicity provides viewers an attractive experience that's tough to turn away from. "The action in these films could always be told quicker with a series of cuts, but there's something about their deliberate, measured pace that draws people in and makes people view it in a different way. I think there's a certain mesmeric magic inherent in real-time action. Having said that, I am very keen not to let the films go on for too long. 2½ minutes is my unofficial limit!"
When he started making THE MUTE SERIES, Lambert had to deal with more limitations than he could imagine. "Well, the first two MUTE films were improvised pretty much on-the-spot at the end of separate TV commercial shoots. I had a big crew, but I didn't have any time to plan or write them or do much rehearsal," he recalls. "The next six films were made by me with almost no production back-up. Shooting sporadically with a tiny crew, the cast was entirely made up of people I knew, including my two children who both appear in different MUTE films!"

Now with 76 Ltd touting Lambert's directorial services for U.K. TV advertising, the company – and his association with it – has given THE MUTE SERIES a substantially larger amount of production resources.
"We've had a bigger crew and did a proper casting – which was just as well as I'd run out of actors that I knew!  We even had 15 extras for one of the films! Everyone got paid a small amount and we shot a bunch of films at the same time: four episodes in 2016 and now three more this year."
As the idiosyncratic nature of every story in THE MUTE SERIES stays constant, Lambert's ambitions for THE MUTE SERIES also remain consistent: "My goal (for MUTE) is to create little mini-myths that are alluring and entertaining in-and-of themselves, but somewhat open for interpretation. I just hope they entertain people."
All 15 films (so far) in the MUTE series can be seen at its official web site: