Before your favorite actors finally became multi-million dollar stars, every one of them had to work jobs that were as far removed from the spotlight as you can imagine: waiting tables, tending bar, shuffling papers, etc. Many would-be superstars, though, have found that being a "brand ambassador" offers them the opportunity to perform through interpersonal communication, albeit in the service of a consumer product.
In the upcoming comedy series FabULess (premiering on Seeka TV November 19th), three of those thespians – Victor (played by Victor Albaum, who also created the series), Alejandra (Besanya Santiago) and Kate (Desiree Abeyta) – learn that pitching such wares in the giant marketplace of New York City is no average day at the office. Encountering wacky customers and unexpected mishaps, Victor, Alejandra and Kate do everything they can to pay the bills while luring consumers to try incredibly mediocre products.
While Albaum's day job memories influenced the concept for FabULess, the genesis of that idea came when a casting agent recommended he work with actors/instructors Heidi Marshall and Johnny Sanchez on a program ("Actors as Creators") that encourages actors to star in and produce content of their own.
"I had thought about creating a series about my brand ambassador experience in the past, but I had never followed through with it," notes Albaum. After studying with Marshall and Sanchez, Albaum dove head first into developing what became FabULess. "Once I completed their (Marshall and Sanchez's) course, I knew I had to make this idea a reality."
For actors like Albaum, serving as a brand ambassador helped him perfect his abilities to connect with the same people who would most likely be watching him as the character he plays in all five of its first season episodes; one not only based on Albaum himself, but also on the years he's spent pitching various products to passersby.
"In late 2013, I got into brand ambassador work. It was extremely flexible, paid more than my serving job, and a lot of what your job entails is talking to people and making a connection so they'll think twice about the brand you're promoting," Albaum remembers. "It's also the 21st century. We live in the gig economy, and I believe there needs to be more content that explores professions like this in a humorous and educational way."
Like Albaum, FabUless' co-stars Santiago and Abeyta also worked as brand ambassadors while they attempted to get their feet in the big-time showbiz door. Now as successful working actors, Albaum, Santiago and Abeyta have been privileged to work on several major projects (Albaum on Unbreakable Kimmy Schmidt, Abeyta in the Billy Baldwin/Denise Richards holiday comedy Christmas Trade, and Santiago in seasons 6 and 7 of Orange Is The New Black).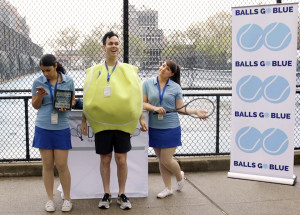 In FabUless, all three performers share the screen with an outstanding cast of guest stars: Andrew Chappelle (member of the Tony-winning musical Hamilton's original Broadway ensemble, plus the recent Showtime miniseries Escape From Dannemora), Elise Santora (In the Heights, Iron Fist), Eric Weiner (co-creator of Dora The Explorer), Jess Howell (Mrs. Fletcher), Chris Callahan (Orange Is The New Black), and Meredith Inglesby (Broadway's The Little Mermaid).
Though FabUless fits in the same sub-category as popular workplace sitcoms like Superstore and Party Down, it's the first such comedy that focuses on the pitfalls and pizazz of life in the brand ambassador field. By realistically yet humorously looking at those aspects of the profession in FabUless, Albaum also shows how many struggling actors rely on brand ambassadorships to help them support themselves during their search for mainstream stardom.
"Little do most people know that the person handing out a drink sample, the well-dressed product specialist at an auto show, or the person handing out giveaways on the street is in fact an actor who is hired because of their ability to communicate with the public," Albaum comments. "As someone who has done a plethora of brand ambassador work, I felt that this world needed to be explored further, and in a comedic way."
Many of Albaum's experiences, and the people he's come face-to-face with while pushing product in the past, have been humorously recreated in FabUless. "Almost every element of my day job experiences inspired the comedic situations and characters of FabUless," he adds. "When working as a brand ambassador, you deal with a variety of characters because you're opening yourself up to the public. Often, you're on a street corner promoting something and you're expected to promote to almost anyone who walks by."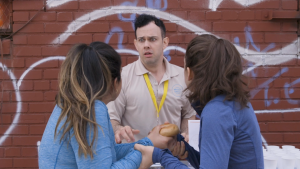 Those personalities, and that of the Big Apple itself, are also at the heart of FabUless' comedy. "The beauty of New York is that whether you're wealthy, middle class, poor, or homeless, we are all forced to walk these streets together. You can't hide from the world around you," explains Albaum.
"When I thought about creating this show, it was the various characters I've met along the way that made me say, "Yes, this is a series worth creating." In FabUless, I'm telling their stories as much as I'm telling mine."
While the main characters in FabULess all work the same job, their perspectives on that job range from naive optimism to begruding frustration. "Alejandra is the quintessential 'I don't care about this job, I'm just here to get the paycheck so that I can pursue what I really care about' character, " says Albaum. "Kate is the naive actor friend we all know who is bright eyed, bushy-tailed, and believes they're ready to take on the Big Apple!"
Nonetheless, Albaum adds, these relatable characters have everything in common with anyone whose hopeful attitude rapidly disappears as the painful disappointments of showbiz drive aspiring talents to the proverbial end of their ropes. "Kate represents the person we all come to New York City being, while Alejandra is the person some of us become when we're over it. They represent the two sides of Victor in a way. He's still hopeful (that) he can make his dreams a reality, but he's also very much over working as a brand ambassador."
While Superstore and Party Down are both centered around the difficulties of working stiffs trying to make ends meet, Albaum says that the product selling done by FabUless' characters and the show's flexible use of the New York City setting are two other factors that make his project distinctive from other workplace-set comedies. Its biggest distinction, though, is its diversity. "(FabUless) is also the rare workplace comedy that features a gay male character in the star role and not as the sidekick or secondary character," responds Albaum.
Besides being compared by Albaum to Superstore and Party Down, FabUless also shares the same comedic traits that Netflix's acclaimed Unbreakable Kimmy Schmidt is known for. "We mention the touch of Unbreakable Kimmy Schmidt because like FabUless, Kimmy Schmidt is over the top in its humor and uses New York City culture and locations as context for their show," Albaum says.
Like the characters of FabULess, a substantial part of the show's target audience is people who find themselves trapped in jobs that they can't wait to quit. Aware that those jobs are a necessary evil, though, FabULess' viewers will undoubtedly connect with the same overarching ambition that ties them with their fictional counterparts: that of achieving a better life.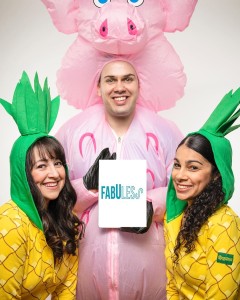 "I think these viewers will identify with the desire to be more than you are, and some of the unsavory things many survival jobs require. Whether you've worked that unglamorous job in high school/college, or are just starting off in your career, most of us have had to work a job we don't care about to get to the one job (or goal) we do care for."
FabULess' three central protagonists also represent the kinds of people we encounter on any typical 9-to-5 job, including ourselves. "I think viewers will be able to see themselves in any of the three main characters," Albaum replies.
"We all know that person who does the bare minimum in any job. We all know the person who is green behind the ears and makes the rookie mistakes. We all know the person who yearns for more but can't quite get themselves to the next level."
While not everyone who checks out FabULess is or has been a brand ambassador like Albaum, the series' co-star and creator hopes that audiences will appreciate the work they do. In turn, Albaum also wants viewers to realize that as they try to pursue their dream careers, all people can find some value in even the most unglamorous jobs.
"It's called a survival job for a reason. You're trying to survive until the thing you really want comes along. A lot of these jobs require us to complete tasks we'd rather not. One of the messages I also love about FabUless is that sometimes you have to work the survival job a little longer than you planned, and you might actually be really good at the job you hate."
(NOTE: Albaum says that all episodes of FabULess will be closed-captioned.)
Watch FabUless on Seeka TV: http://watch.seeka.tv/fabuless
FACEBOOK: https://www.facebook.com/FabUlessTheSeries/
TWITTER: https://twitter.com/FabUless_Series
INSTAGRAM: https://www.instagram.com/fabulesstheseries/