While creating original digital content gives new and established actors an instant showcase for their talents, their work doesn't stop when the cameras stop rolling. Aside from learning the ropes of filmmaking, actors who produce their own web series also need to learn how to sell themselves as much as their shows.
Tackling both halves of the filmmaking process is the new production company Make Your Show, co-founded by two actors who've both experienced the thrills and pitfalls of starring in and producing episodic content: Jason Cicci, (co-star/producer of the acclaimed comedy He's With Me and creator of the new series Cady Did) and Cicci's He's With Me co-star John Cramer, himself a prolific writer/director/producer (Channeled, I Got You Bro, Mantors, Head Life Coach, You're Never Ready).
Make Your Show is a full-service outlet that provides actors who want to produce and develop their series ideas hands-on guidance through every phase of production: cast/crew scheduling, script development, budgeting, on-camera filming and technical planning, editing, sound, etc. The company's web site (link below) offers more information on production packages, as well as on how to book a free consultation with Cicci and Cramer to discuss and plan show ideas.
Working closely with actors to produce a short film that also doubles as the pilot episode of their series, Cicci and Cramer offer them the flexibility of having instantly available "proof of concept" work that they can pitch to distributors and submit to film festivals at the same time; work that also fits the budgetary needs of each actor/creator.
At present, Make Your Show has produced four different shows: Searching for Sylvie (currently in post-production), In With Vinny, Bad For Good and That's My Dad! More details on those projects are included later in this story.
Having founded Make Your Show to address the creative and business needs of its collaborators, Cicci and Cramer view their enterprise as more than a means of helping the next generation of web series actors/producers deliver high quality representations of their promising ideas.
As they tell Snobby Robot, Make Your Show is their way of giving back to the indie film industry and its up-and-coming talents through invaluable education and ongoing production support – all backed by Cicci and Cramer's years of experience in, and knowledge of, the filmmaking field.
Chris Hadley: Talk about how your own experiences (and struggles) in the industry helped inspire you both to start Make Your Show.
Jason Cicci (co-founder, Make Your Show, actor/writer/producer): After appearing in and writing/producing Off-Off Broadway and regional theatre, I wanted to share my work with a larger audience and move into on-camera acting/writing.  I knew I could produce something that wasn't as expensive as a theatre piece and that more people would see it.  
When my series "He's With Me"  became popular and afforded me opportunities I couldn't have foreseen, I realized that we are in an empowering age for artists. You can raise funds for your creative projects so that you can gain exposure and experience, leading to professional advancement.  
John and I liked working together as actors on He's With Me and would occasionally get together to see if there might be anything we could work on. During this time, Tony Award winner Cady Huffman approached me about creating a show for her (Cady Did). Inspired by the process, I had the idea to offer this service to any actor who wants to be the star of a story and asked John if he would want to become partners.
John Cramer (co-founder, Make Your Show/co-star, He's With Me): Because I came to acting later in life, I was always on the lookout for pathways forward that didn't rely on pedigree or experience. Add to that my eagerness to charge up the learning curve, and creating my own material made a lot of sense. I met Jason when he cast me in his first foray into self-producing on-camera work. We stayed in touch after that, and I reached out to him whenever I was writing or shooting new work. 
When he shared his idea for Make Your Show, it really appealed to me. I know I appreciated all the help I got while learning how to do everything that's required to finish a short film or web series. Being able to share the knowledge I've gained along the way and help other actors create their own work feels like giving others a hand up.
CH: You both co-starred in the acclaimed comedy series He's With Me, while Jason produced that series and the new comedy Cady Did. In what ways did your work on those projects prepare you for creating Make Your Show?
Cicci: From a writing/producing standpoint, I would say the biggest lesson I learned in making both He's With Me and Cady Did was how to tell a (hopefully) compelling story on a shoestring budget. Writing for locations you have (for the most part) instead of worrying about how we'd ever afford dream locations became key in regard to producing each show. 
Actors in the shows and friends of ours kindly offered their homes and workplaces for us to shoot in. More scenes took place outside, plots were furthered with phone calls, etc. You learn to get clever while always maintaining quality. I still work that way with our Make Your Show projects. 
Cramer: Working on two seasons of He's With Me presented a great opportunity to learn all that goes on behind the scenes in making a series. As an actor, this included things like building a character over multiple episodes and arcs. But I also paid attention to the technical aspects of indie filmmaking from things like lens choice to lighting design as well as how a director works with different actors to get the best performance. 
CH: At present, Make Your Show has developed four new series. What are those shows about, who's involved in them, and when can viewers expect to see them?
Cicci/Cramer: Created for actor/comedian Vincent Ford, In With Vinny is a short film/pilot about Vincent, a lonely and introverted librarian who's trying to have the courage to come out to his family. I believe Vincent is planning a screening.
Searching for Sylvie is an 11 episode first season of a digital series. Actress Susan Jeffries stars as Sylvie, an eternally optimistic yet naïve Upper East Side woman of means who suddenly finds herself having to reinvent herself. Armed with nothing more than her charming disposition, we follow Sylvie as she reconnects with her sister and learns to be self-sufficient for the first time in her life. We just completed post-production and Susan is planning a screening soon.
Bad For Good tells the story of Anthony, a New York City detective torn between following the rules and being a good son. Single (and) taking care of his debilitated parent, Tony wants the American dream but finds himself in a nightmare. This pilot/short was created for actor Mike Paladine. We are in pre-production. 
That's My Dad! is the funny story about Sam, a young New York City professional who struggles for viral fame on her YouTube beauty channel while working and dreaming of becoming an accomplished actress. Her recently divorced and retired hovering father, Mac, moves in with her in her small Manhattan apartment, complicating and disrupting her dreams. This pilot/short was created for father/daughter actors Larry and Jackie Kelly, based on an idea they presented to Make Your Show. We are in pre-production.
Each Make Your Show project is driven by the actor who hires us, and while we do offer guidance after it's completed, when and where that show is seen is not up to us. Whether it means submitting to film festivals, or sharing on their websites with casting directors and other industry decision-makers, they now have a powerful marketing and networking tool to further their career.
CH: In what ways were you involved in those series' productions, including as it related to your work with the actors?
Cicci/Cramer: Soup to nuts! We write, produce, cast, shoot, edit, offer production simple design, wardrobe suggestions and complete SAG-AFTRA paperwork, among other duties. In most cases, actors came to us to help them define their niche within the market and we write/create/produce their project based on their strengths. 
This includes assessing what resources they have available to contribute to the production, such as locations, props and wardrobe. Once we've worked with them to write the script, we offer them the opportunity to be involved in all aspects of pre-production and production.  
Particular aspects, especially participating in the casting process, are invaluable experiences for actors. On set, while they are the leading actor of their project, they are also treated as collaborators. During post-production, our clients are encouraged to help shape their project as we edit it, offering notes and/or suggesting preferred takes of their performances.
CH: All four shows were shot as short films/pilot episodes, rather than entire seasons of a series. How will that benefit not only the people who've created and starred in those shows, but also Make Your Show as a whole?
Cicci/Cramer: Whether we create a short/pilot or a full-blown series really depends on the budget that our actors have to work with. Searching for Sylvie is actually a full, 11 episode series created for actress Susan Jeffries. This provided Susan the benefit of crafting a character in a longer form. This demonstrates an actor's ability to shoulder the story of a series and show off more range. 
In regard to pilots, we create each one so that it can stand alone as a short film, allowing our clients to submit it to film festivals where they can receive feedback, reviews, awards and the opportunity to network with industry professionals in a more curated way.  The pilot/short also becomes a marketing tool for the actor if they choose to continue to make more episodes, they have a proof of concept to share with more contributors and potential investors.
CH: Once the pilots are completed, what support/guidance will Make Your Show provide to actors/filmmakers as they prepare to make full seasons of their shows?
Cicci/Cramer: We really never cease offering advice to actors (setting up social media platforms, creating email lists, film festival suggestions, etc.), once their projects are completed. If they are interested in continuing the process in producing more episodes, we are excited to collaborate with them again.   
However, one of the reasons actors are encouraged to create their own material is that they gain more than the opportunity to act. They become producers. This is especially true if they raise funding for their project with an online campaign, teaching them the necessary skill of promoting oneself.  
The experience of marketing their completed project, nurturing relationships in this industry, and building their image will take them farther and faster than simply working to find work. Being known as a storyteller as opposed to just an actor will open up more doors. You will be seen as a more viable commodity in the entertainment business.
We hope to inspire actors to become their own best advocates in order to produce and market their talent. You have to be your own business with a constant and consistent effort being put toward the industry professional you want to be. If that effort includes making more of their series, especially with the new skill set they've gained, we look forward to working with them again, this time as a more seasoned pro.
CH: Are there any new shows being developed by Make Your Show? If so, what details do you have about them?
Cicci/Cramer: In addition to projects John and I have written, we are also working on an exciting project for a new client, a series that parallels Make Your Show's entrepreneurial spirit. It's a story about women coming together to make their own opportunities and how the power and benefits of a supportive community working toward common goals can transform lives.
CH: Discuss the individual production packages Make Your Show offers, how much they cost, and how actors/filmmakers can access them through the company's web site.
Cicci/Cramer: We approach each project on a case-by-case basis depending on the individual's needs and resources. Interested actors (or writers or producers) can contact us for a free consultation, where we can learn more about them and what they want to accomplish. We know that actors have limited funds. One of our packages includes practical guidance and a custom-made video to use as a marketing tool for their use in an online campaign, a very popular way for creative people to raise capital for projects.  
CH: In terms of your work with actors, discuss the ways that you've helped (and are currently helping) them to develop the projects shepherded through Make Your Show.
Cicci/Cramer: With our actor collaborators in mind, we create projects from the ground up.  From consultation to finished script to post-production, Make Your Show is a one-stop shop and actors are invited to participate as much as they like in order to learn the business of being an actor. The byproduct of working with us is that you have our experience to guide you through not only the production of your project but in navigating the entertainment industry.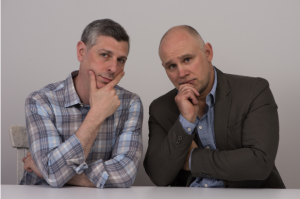 CH: Describe the one-on-one training process offered to actors and filmmakers by Make Your Show as it relates to production – writing, editing, camera, etc.
Cicci/Cramer: It varies. Some actors simply want a show created for them, others are interested in learning about other aspects of the production process.
We love including the actors we work with in everything we do, whether that means discussing camera angles, commenting on and editing drafts of their scripts or offering their opinion on music selection.  They can also be included in the process of creating budgets and submitting paperwork to SAG-AFTRA (all Make Your Show projects are made in association with SAG-AFTRA). 
CH: Before an actor/filmmaker commits to working with Make Your Show, you're offering a free 1 hour consultation to them when they sign up for it on the company's web site. What can they expect when that consultation occurs?
Cicci/Cramer: Our consultations are a fun, educational, casual way to find out where actors are in their careers, where they want to go, and how we can help them get there. Sometimes actors are unaware of "who they are" and how they'll be cast in TV and film projects. By getting to know them, we share with them our ideas on how we think they'll be cast in the business. If they end up working with us, the essence we describe to them informs us on what kind of character we might write for them and what kind of story best suits their type.
CH: Overall, what are your hopes for the success of Make Your Show as both a company and an outlet that helps actors create their own content?
Cramer: As a former teacher, I've always been focused on inspiring people to become life-long learners. I love learning about all aspects of filmmaking and want to share that love and the knowledge that goes along with it. I also hope MYS can continue to help actors spread the kinds of unique human stories that we've been telling so far.
Cicci: While training as an actor, I discovered that the most important thing I wanted to do in storytelling was to make people escape, learn, laugh or all of the above. I feel that it's philanthropic to tell stories and share yourself with people in a creative way. If I can help aspiring actors and writers to get to a place where they feel empowered to tell their stories and instill the confidence they need to do so, that is my goal with Make Your Show and everything I do professionally.
More info on Make Your Show and its services can be found on its official web site: