As we all know, life is extremely unpredictable. No matter the situation, where we are, or what kind of people we encounter, there are always going to be moments when our seemingly ordinary lives are upended in one way or another. No one knows that better than Alex, the titular protagonist of the new comedy web series SHE IS ALEX.
The 4 episode series is now streaming on its official web site and Youtube page, and stars Eritria Pitts (who also wrote, produced, edited and created the show) as Alex, a woman who meets some offbeat characters in some very normal places. Two episodes have aired, with two more scheduled.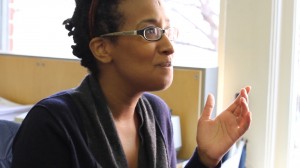 Each episode also features a cast of talented comedic performers from the New Orleans chapter of the improv comedy conservatory The New Movement Theater, who play a variety of wacky characters throughout the series.
Among them – Julia (Kaitlin Marone), Alex's co-worker. During the Christmas holidays, they both play "secret Santa" at work, but Julia ends up on the receiving end of a gift from Alex that she never expected (or wanted). Another episode, "Circulation Desk", features Jesse Spots as Richard, a librarian who proves to be a thorn in Alex's side after finding that she turned down his request to be friends via Facebook.
Pitts developed the concept for SHE IS ALEX during her time as a producer on the popular Al Jazeera English talk show THE RIZ KHAN SHOW, and sought to create her own series based in large part on some of her own unusual personal life experiences. Yet, it wasn't until the show ended production in April 2011 that she finally got to work on creating her show, its characters and the hilarious situations that ensue in each episode.
As Pitts explains, her character (Alex) has tremendous depth, but often proves to be something of an enigma at times. It's just one part of her wide ranging personality that viewers can expect to learn more about throughout the series.
"Alex is a person who tries to be respectful, sensitive, open, and honest. But somehow she gets into these positions where she is pushed to place she doesn't expect or want to be in, and often asks herself 'how did I get here?' She contradicts herself often, unveiling the magic of self discovery. As each episode progresses, viewers should expect to uncover the different layers of Alex. I also want to make sure each episode illustrates to the audience a familiar environment juxtaposed with unexpected exchanges."
Working with the hilarious performers of The New Movement Theater added immensely to the show's production – both in casting and on the set. "I think improvisers are the best,  and honestly, I don't think I can cast a non improviser. They don't over think, they just feel, and react naturally. And they give you more than what is written. So huge props to the New Movement Theater for bringing wonderful performers into my life," Pitts says.
Adding to the show's smooth production was Helen Krieger, star/creator of the Webby Awards honoree LEAST FAVORITE LOVE SONGS, whose contributions to SHE IS ALEX began way before the series launched and have proven to be immensely valuable. "She has consistently been on Team Alex since the beginning, when I was shooting teasers two years ago. She has been my audio, camera, and unofficial consigliere (advisor)," Pitts adds.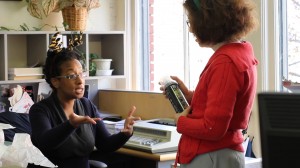 While Alex is at the forefront of each episode, it's what happens to her, who she meets, and how she reacts to both that makes SHE IS ALEX different from most comedies. "I think the show is different because the main attraction isn't really Alex. Yes, it follows her life, but the true entertainment comes from the absurd characters. They lead her to this wild, bizarre ride and we see how far they will take her," says Pitts.
As a result of that humor, SHE IS ALEX has quickly become a favorite with a wide variety of audiences all over the country. "I can honestly say I've had positive responses from diverse group of people- from an 11 year old black girl in New Orleans, to a 65 year old white retired power plant operator in Pittsburgh. So I would like to think everyone would enjoy this show."
SHE IS ALEX proves that no matter how weird life can get, it's how you react to its twists and turns that makes all the difference – and makes the often humdrum parts of life the funniest. "I always enjoyed (the) theme of 'who you are vs. who you want to be'. And I really enjoy putting Alex in those positions. There's something really delightful of watching someone with this somewhat haughty position, and having the pie crash into their face. But I also make sure she still has her dignity intact. It's the gift of being able to laugh at yourself."
(Note: Pitts says that SHE IS ALEX is not currently closed-captioned, but that she hopes it will be in the future.)
ON THE WEB: www.sheisalex.com
YOUTUBE: https://www.youtube.com/user/SheIsAlexShow
FACEBOOK: http://www.facebook.com/sheisalex.tv 
TWITTER: @EritriaPitts