Being part of a team can provide people with the opportunity to achieve goals in impressive fashion, especially when there's a strong sense of chemistry. On the other hand, collaborations with people who don't exactly mix well have the potential to be fraught with complications and conflict.
In the upcoming suspense series CON: THE MINISERIES, the latter kind is on full display as two college students/con artists with completely different personalities decide to join forces as they attempt to pull off some of the biggest scams and heists that no one person could possibly pull off.
Created and written by Amy Suto and Jen Enfield-Kane, CON: THE MINISERIES will premiere its first season of 6 episodes later this August via the USC (University of Southern California)'s Trojan Vision cable channel (on campus via cable channel 8.1, and to all of Los Angeles via cable channel LA36), and Trojan Vision's web site (see link below).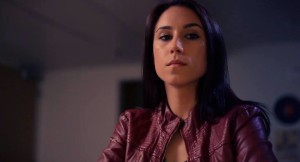 CON: THE MINISERIES stars Nicole Dambro as Iris, a self described "lone wolf" who stops at nothing to pull off the perfect con.
Yet, she remains haunted by her own past. In distinct contrast to Iris' go-for-broke approach to con artistry is Jonah (played by Joey Livingston). known simply as "The Architect",
Jonah meticulously plans and perfects his various cons, while at the same time, seeking redemption for a job that ended in disaster. Together, Iris and Jonah begin an uneasy alliance; one that gives them the chance to pull off the big jobs, but also, one that comes with personal and professional crises.
The series also stars Portia Juliette as Jonah's best friend and bookworm Evelyn, whose real feelings towards Jonah, as well as her real identity, may not be what it appears. Rounding out the cast is Chae Talley as Aiden, the latest would-be victim of Iris' scheme, and a man who's gradually taken in by her unmistakable allure.
In addition to its main episodes, CON also features supplemental content that takes viewers inside the various cons depicted throughout each episode. "We also have bonus content slated to be released in late June: a web series called CONversations where Jen and I highlight some of the cons and street hustles from the show and teach the audience how they're done," Suto says.
Both wrapping up their studies at USC through its prestigious B.F.A. (Bachelor of Fine Arts) screenwriting program, Suto and Enfield-Kane are very familiar with managing and producing scripted online content. Suto served as show runner for two seasons on ANTIDOTE 15, while Enfield-Kane created her own series, THE SUPERNATURAL ENTHUSIASTS CLUB.
It was their fascination with real life con artists (including those on campus), and the inner workings of their various schemes, that gave Suto and Enfield-Kane the real inspiration to develop CON.
That fascination took root as both studied the subject in a highly unusual, yet often exciting, course at USC.
"Jen and I actually took a class at USC where we had to hack into computers, pick locks, practice 'social engineering' and study con artists and their techniques to better protect ourselves," Suto remembers. "It was such an interesting, unconventional class, and we had to make a show about what we had learned about the types of con artists you see on a college campus."
Late last year, Suto and Enfield-Kane began developing the concept, characters and scripts for CON, with the show's overall financing being provided by the university's TV network Trojan Vision. As Suto explains, the show's extensive (and we mean extensive) pre-production process began, innocently enough, while on the way to one of their classes.
"We (Suto and Enfield-Kane) were walking to class, and I was like, 'hey Jen, we don't need to sleep for the next six months, do we?' And I pitched her the idea for the show, and we started riffing on the subject of dual protagonists at the heart of a con artist drama," Suto says. "Completely worth the ensuing all-night writing and pre-production sessions."
Those all-nighters helped the show's creators refine and strengthen CON's overall storyline, characters and episodic framework for its first season. "We brainstormed for a couple of weeks and began creating characters and plot lines. It was a lot of lying around Amy's bedroom and shouting out as many crazy ideas as possible until we hit on the ones that actually worked," Enfield-Kane recalls.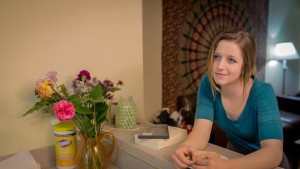 As the writing process went on, Suto and Enfield-Kane eventually reached consensus on what worked and what didn't work, thus moving them ever closer to the final draft stage, and improving their series for the better.
"Our story actually started out with a lot more characters and storylines, but during rewrites we ended up killing a whole lot of darlings," adds Enfield-Kane. "It was heartbreaking, but the show is a lot better for it."
While many web series revolve around a central character, backed by a small cast of supporting characters offset by varying degrees of antagonists and dramatic obstacles, CON takes a highly unique approach to its storytelling and characters – both primary and secondary. Enfield-Kane describes CON's multi-faceted episodic style, which she feels makes the series unlike most currently online.
"Our show pushes the envelope in terms of the complexity of the story structure. I think a lot of web series focus on a single protagonist with few minor characters, which is a good structure but we wanted to try something new. Something different," she says.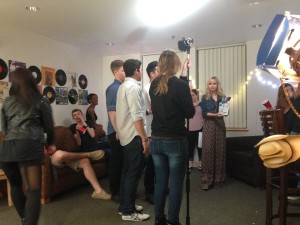 With that foundation established, Enfield-Kane and Suto knew that applying that complex structure to CON's characters would take a lot of work.
"It was an ambitious challenge because we have two protagonists. Allies and enemies that aren't black and white," adds Enfield-Kane. "Storylines that impact each other, setups and payoffs across the whole season that affect our entire cast of characters."
Further distinguishing CON from similar movies, TV and web series is its refreshing approach to the two con artists at its center; one that focuses on the inner personal struggles faced by Jonah and Iris, and how the aftermath of their schemes impacts them, their friends and the people who fall victim to their cons.
"We see Iris and Jonah struggle with love, betrayal, and their friendship (however rocky) with each other," Suto says. "Sure, Jonah robs a bar and Iris attempts to steal blackmail from a drug dealer, but at the end of the day these are two real people who have to deal with the consequences of their actions, and it takes a toll on them."
"I think it's (con artists) also a subject you don't see dealt with very often in the college setting," says Enfield-Kane, who adds that CON's college campus-based setting is another thing that inspired her to develop the series with Suto. "In fact, there aren't a whole lot of shows that tackle the college setting either, which is a shame, since college is such a wonderful microcosm of society."
Shot over 25 days throughout the vast USC campus, Suto and Enfield-Kane took full advantage of the vast resources provided by the University's setting, and its state of the art facilities through its prestigious film and TV program.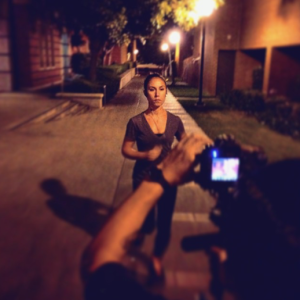 With a majority of the production crew comprised of USC film and TV students, plus several alumni of the program including director Avi Kaye and series producer Irina Kuzina, CON's production was both efficient and memorable.
"We had access to the sound stages and the Zemeckis Center studio, and we spent several weekends shooting in those amazing spaces. The USC campus itself was a great backdrop because there are so many versatile locations," Suto says. "For one day of production, our location had these gorgeous cherry blossom trees that bloomed right before our shoot that just transformed the scene."
Incredibly, says Suto, the most memorable part of the series' production was one that many TV series show runners are already familiar with. It was one that she knew very well thanks to a recent, critically-acclaimed documentary. "Highlight of production? Our golf cart, which basically means that you've made it in the industry," she remembers.
"There's this great documentary on Netflix called SHOWRUNNERS, and the first ten minutes are just the showrunners riding around on golf carts on the backlot while eating donuts and talking about their respective shows," Suto says. "When we got our golf cart, I felt like I was in that documentary."
Most importantly, though, it was the strong sense of camaraderie among CON's cast and crew that proved to be the biggest factor in the show's successful production. As Suto explains, several of those involved in the series have established working relationships as a result of their duties on CON.
"A few of our cast and crew have already gone on to continue to work together beyond the project, so one of my favorite aspects of this series was how we were able to connect people and encourage networking," she says. "This is also a testament to how we were lucky to have such great people working on this project!"
CON: THE MINISERIES shows that while con artists often put up a seductive, aggressive and, for lack of a better term, confident front, it's what lies beneath the surface that can truly make or break the lives of white collar criminals – including those who happen to co-exist amid the fraternities, the sororities, the stud athletes and the scholars.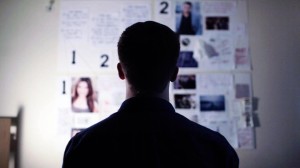 As Enfield-Kane says, CON has something for everyone, especially those who love the antihero – be it Tony Soprano, Walter White, or any great character who uneasily toes the line between right and wrong.
"…When you get down to the core of the show, it's about a bunch of broken people trying to fix everything but themselves. They're swimming on the line between selfish and selfless, moral and immoral," she says.
Suto adds that CON is also about learning to make the most of a difficult situation, especially when things don't go your way. It's a theme that's reflected through one of its main protagonists.
"Life doesn't always work out the way you plan it to. Jonah's all about engineering the "perfect" con to get the outcome he wants, and assumes that's just how the world works. If he puts enough plans into place, eventually he'll get what he wants," she says. "In reality, that's not the case; sometimes you work hard, plan out everything, and it still falls to pieces. You just have to get back up and keep going."
Adds Enfield-Kane: "…You aren't alone in this struggle. Even people who look like they have their lives completely put together deal with failure. Seriously, no one is perfect– least of all, Jonah and Iris. Hopefully if people see that everyone is in the same boat, they'll stop judging themselves for every little mistake."
(Note: Regarding closed-captioning, the show's creators say: "We're looking into close-captioning our content, but that's something we'll have to work out with the post-production department of Trojan Vision to see if it's doable.")
ON THE WEB (Trojan Vision): http://trojanvision.usc.edu/con/
FACEBOOK: https://www.facebook.com/contvminiseries
TWITTER: https://twitter.com/CONtvshow