Picture this: you're a young actor, new to the glitz and glamour of Hollywood. You're at the point where getting to the top of the showbiz food chain means countless auditions, heartbreaking rejections, and embarrassing encounters with acting teachers, filmmakers, casting directors and agents filled with questionable expertise. How would you survive the experience?
Why, you make a digital series about it! That's what actors Robin De Lano and Alexandra Case have done through the hilarious multimedia comedy series GIRLS I AUDITION WITH. Created, produced, written by and starring De Lano and Case, their memorable adventures are brought to viewers through ongoing videos on Instagram, Facebook and BitPix. (See links to all below).
With its ongoing array of short content totaling over 80 episodes (and counting), GIRLS I AUDITION WITH features De Lano and Case (as themselves, exaggerated for comedic effect) in their quest to make career inroads in the uber-competitive world of entertainment. Despite their characters' portrayed lack of experience, Robin and Alexandra strive to be, in their words, "the big break Hollywood has been waiting for".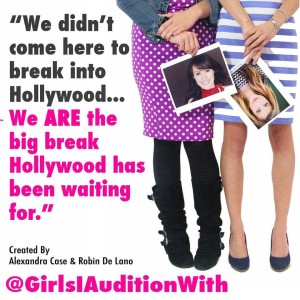 Already familiar with the grind of acting classes, auditions, callbacks, rejections, agent meetings and talent showcases, De Lano and Case combined their memories of such career obligations with their love of short form humor a la SNL, Funny or Die and the like into brief, yet wacky moments in every episode of GIRLS I AUDITION WITH.
"The show was developed from our real life audition stories," explains De Lano. "Alexandra and I were at a friend's party one day, and we were all talking about our crazy experiences as actresses. Everything from the casting couch to survival jobs. We would not only use our friends and friends' stories, but we would play caricatures of the Girls We Audition With."
Humor aside, GIRLS I AUDITION WITH is also a series that presents a realistic view of the difficulties and challenges that actors continuously face as they try to create and maintain success in show business; situations that every aspiring performer has experienced at one point or another.
"Television and movies often only show the fancy, fabulous side of Hollywood," Case says. "We wanted our show to allow the audience a behind-the-scenes peak at what goes on behind the camera, stuff that occurs just before that glamorous Hollywood moment."
While their series is sure to generate plenty of giggles among comedy aficionados from all walks of life, De Lano and Case also created GIRLS I AUDITION WITH as a way for the entertainment industry to hold up a funny mirror on itself. "Hollywood creates for an audience, but instead, we wanted to create something for Hollywood," De Lano says. We want our creative community to laugh with us."
With improv being a huge component of GIRLS I AUDITION WITH's content, the show's production style is just as free-wheeling. "Depending on who or what we have in the sketch, sometimes we'll write out a loose script, and sometimes we improv," explains De Lano. "If we have a guest star and they don't like to improv, then Alex and I will write a script out for them."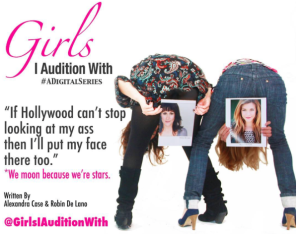 "When we do have (a) guest who loves to improv, we let loose, but usually it's just Robin and I shooting," Case adds. "We just give each other a theme or one line—and then hit record and see what happens," adds Case, who goes on to describe how working with De Lano provided ample opportunities for both actresses to come up with ideas on the fly – no matter where, when or how they were able to do so.
"There are several episodes where we're wearing sweatpants and no makeup, because that's just what we were wearing at the time we had the idea. Like I said, our show allows a peek behind-the-scenes," Case says. "Everyone watches the Golden Globes thinking, 'wow, they look so happy and beautiful,' but our show revolves around what happens before that event; the 24 hours of hilarity and craziness before (the awards show) that allows them to achieve that calm, cool, red carpet look."
Although GIRLS I AUDITION WITH can be found on Facebook and BitPix (more on that platform ahead), the series primarily uses Instagram to distribute its short, 1 minute long episodes. While De Lano and Case quickly realized how difficult it was to make effective video content within the site's strict time limitations, they both learned how to adapt and adjust their writing to those restrictions.
"We used Instagram for its timeline. We had to challenge ourselves to tell a funny story in 60 seconds or less," says De Lano. "Also, we had to make each episode stand alone as well, since that is Instagram's format. You can click on any video and that 60 second episode will tell a story, but then, if you watch a few of them together, you can tell what the through line is," Case responds.
The short length of GIRLS I AUDITION WITH's episodes makes for a convenient viewing experience for people who love comedy, but whose schedules don't allow for them to devote extensive time to longer stories. "In today's world, not everyone has time to watch a 10 minutes-long video. It seems crazy, but it's true," says Case. "You can watch our sketches at a stop light!"
That being said, the same content found on the series' Instagram page is also spread across its presences on BitPix and Facebook. As a result, viewers won't miss a single moment of De Lano and Case's hysterical pursuit of stardom, nor will they have to play catch-up with a continuous storyline. "Our video content is like a short, digital (version of) SATURDAY NIGHT LIVE. You can enjoy an episode by itself or in sequence," says Case.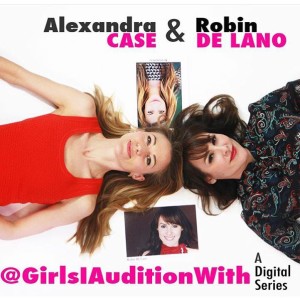 As GIRLS I AUDITION WITH expanded from 15 seconds-long vignettes to fully developed 1 minute episodes, the show's popularity and profile grew exponentially. So too did the demand for its content to be made available beyond the confines of Instagram.
"As soon as we had a handful of videos, and a few thousand followers (on Instagram), we kept on hearing from people that we needed to move to other platforms to reach a wider audience," recalls De Lano. "We chose multiple platforms because we wanted to get the word out."
As mentioned earlier, GIRLS I AUDITION WITH is also available on the new web series platform BitPix. The site, created by HollyShorts film festival co-founders Theo Dumont and Daniel Sol, features both existing episodes of GIRLS I AUDITION WITH, and exclusive content that's only available to BitPix users.
Being part of BitPix has also provided De Lano and Case with tremendous creative advantages. "It's really unique what Theo and Daniel have developed, (which is) a platform for budding creatives to present their work," Case says. "Including us. All of the videos and films on the site are so creative. There are shorts and TV shows that never would have been seen without Theo and Daniel," responds De Lano.
Described as "LAVERNE AND SHIRLEY meets BROAD CITY in Hollywood", GIRLS I AUDITION WITH shows viewers that no matter how tough Tinseltown can be, or how bumpy the road to stardom can seem, the goal of finding the funny in that journey is perhaps the most important one to achieve.
"The overall message (of the series) is to have fun with your career, and to never give up on your dreams or yourself," De Lano says. "The film business can be a harsh career (world), and everyone needs a good laugh once in a while." Adds Case: "I think our show also reminds people that the outfit of success never looks glamourous."
NOTE: De Lano and Case say that their series is not currently closed-captioned or subtitled.
INSTAGRAM: https://www.instagram.com/girlsiauditionwith/
FACEBOOK: https://www.facebook.com/GirlsIAuditionWith
BITPIX: http://bitpixtv.com/video/girls-i-audition-with/