It began as an internet phenomenon: the first person video diaries of a young woman known to her many fans and followers as "Sexy Nerd Girl". Yet, many people were completely unaware that beneath her geeky exterior lay one of the most interesting and entertaining characters to ever appear on the web series scene. VERSUS VALERIE, created by Mike Fly, Simon Fraser, and Stephanie Kaliner, premiered its 12 episode first season on March 7th. New episodes will air every two weeks on Thursdays (the latest airs May 16th). In addition, new vlogs from Sexy Nerd Girl appear each Tuesday, with additional content airing during the show's off-weeks.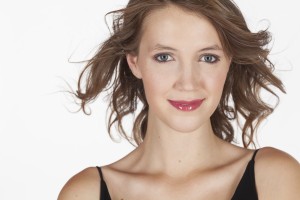 The show stars Hannah Spear as Valerie Lapomme, the offline persona of "Sexy Nerd Girl" (also played by Spear), who uses her vast geek knowledge to not only get through life, but to also survive some of its toughest challenges. Adam Christie plays her best friend and fellow geek, Guy Sedeki, while veteran voice actor Mark Meer plays Valerie's love interest, known simply as 'The Doctor' (in a nod to another favorite TV series among geeks, DOCTOR WHO). Alexandra Wylie plays Valerie's best female friend Darcy, and Shelly Kidwell portrays Valerie's mother. The series' first season was funded through Canada's IPF (Independent Production Fund), along with the OMDC's (Ontario Media Development Corporation) Interactive Digital Media Fund.
VERSUS VALERIE grew out of the popular SEXY NERD GIRL video blogs ("vlogs") on Youtube, which premiered in December of 2010. The vlogs are part of a unique trans-media experience unlike any other on the web. "We used Sexy Nerd Girl as a way to build the character, and build her story, as we were building the audience at the same time, so that each one was feeding the other. There's audience input, that'll inform some of the choices that we make with our narrative, and that feeds back to the audience, so we're always trying to make stuff that we believe will appeal to the people who are watching the show already," Fraser says. In addition to her Youtube vlogs, Sexy Nerd Girl became active across all major social media platforms (Facebook, Twitter, Tumblr, Google Plus, etc.)
While Fly says that Sexy Nerd Girl/Valerie was never intended to be portrayed as a real person, she developed many relatable qualities that viewers could identify with, in a unique, first person storytelling style that brought a sense of realism to the show, and to her character. "Our focus was to make Val as real and grounded, like a real person, with flaws and with really lovable qualities. We had that luxury that most TV shows don't get to have, because they're stuck waiting until they premiere their first episode in a pilot, and seeing what their audience thinks of their character. We had the luxury of being able to watch her grow with her audience, her friends, really."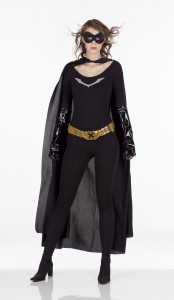 The character of Sexy Nerd Girl, Spear says, emphasizes inner confidence over outer beauty, while exuding a positive outlook on life. Even though the actress doesn't consider herself much of a geek in real life, she nonetheless shares her character's optimistic view of the world. "She's an awesome chick. She's so confident. She doesn't really care what other people think of her, and that's pretty exciting to play, because as a human being, we're all self-conscious, but playing Val, she's like 'I love life, and I love people, and I love nerdy stuff, and I'm not afraid to tell everyone', so it was awesome." Fly agrees. "Hannah definitely has that infectious positivity that Valerie extols. She brings so much to Valerie. What we conceived originally was one thing, but what Hannah has grown this character to become is something that truly is amazing."
VERSUS VALERIE blends elements of reality and fantasy, across social media, and even across other web series. The sixth episode features a guest appearance by the co-hosts of the popular Youtube video game review show 3_KILLA_BYTES (Kat Jovey, Jay Hooft, and Mike Colangelo). Further transcending the boundaries of the real world and the fictional world of Valerie/Sexy Nerd Girl, Hooft (as himself) plays a former love interest of the main character, who not only proclaimed his love for her online (before he even knew that it was a fictional web series), but also shared their relationship across social media with Valerie.
Fraser says that Hooft was "blown away" by the idea, and that their "relationship" ended up being incorporated into the show's storyline. "On Jay's actual real world/social media, he posted that he was dating Val, and Val would, of course, post that on hers (blog). We posted pictures of them on dates, they made a couple of videos together, and then they ended up breaking up on Skype, so that kind of real world crossover became something that we kept in the story world, obviously, and it moves forward as VERSUS VALERIE comes out, and in episode 6, you actually get to see Val on 3_KILLA_BYTES. They're talking shop when it comes to video games," Fly says.
The show also stands apart from all the others because of its unique approach to storytelling. "One of the things I've often heard Mike say is that when you watch content in the format of a video blog, it gives you an opportunity to get to know the character at a deeper level than, say, a dramatic piece, or a sitcom, or any sort of multi-character drama, because then you're focused on the action, you're focused on what's going on in the story; whereas if it's a video diary, you're totally focused on what's going through that character's head, where is that character at, what's happening to them, as opposed to what's happening on screen. The fact that we built this show starting from the perspective of the main character just gives the audience, all the viewers who watched all those vlogs before they watched a second of VERSUS VALERIE, a very, very deep understanding of this character, and (the viewers) find the story a lot more meaningful than if they hadn't gone that route," says Fraser.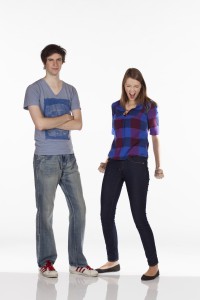 VERSUS VALERIE, like the character itself, is all about two simple things: doing what you love, and being proud of who you are, no matter what anyone thinks. The continued viewership and support from the show's loyal fans serves as testimony to the show's success. Says Fly: "I love the fact that the people who love our show, love the show. They're not a passive audience that comes by to check it out, and then they never want to see another episode again. The people who like our show connect with Val, and they connect with Guy, and they dig it, and those people, I think, are going to be very excited to help support the show when we move forward, because by the end of this season, they're going to really love this character, and they're going to really be excited to see what happens next."
ON THE WEB:
VERSUS VALERIE Web Series: www.versusvalerie.com
YOUTUBE: http://www.youtube.com/user/VersusValerie
BLIP.tv: http://blip.tv/sexynerdgirl
FACEBOOK: https://www.facebook.com/VersusValerie
TWITTER: https://twitter.com/VersusValerie
TUMBLR: http://versusvalerie.tumblr.com
GOOGLE PLUS: https://plus.google.com/u/0/112740822356754118363/posts
Characters:
SEXY NERD GIRL/VALERIE:
WEB SITE: www.sexynerdgirl.com
YOUTUBE: http://www.youtube.com/sexynerdgirlcom
FACEBOOK: https://www.facebook.com/sexynerdgirl
TWITTER: https://twitter.com/SexyNerdGirl
TUMBLR: http://sexynerdgirl.tumblr.com
GOOGLE PLUS:
Sexy Nerd Girl: https://plus.google.com/u/0/100052219437001592309/posts
Valerie: https://plus.google.com/u/0/110076216099772351160/posts
GUY SIDEKI:
Facebook: https://www.facebook.com/guysideki
Twitter: https://twitter.com/GuySideki