No matter what some people say about the glitzy, glamorous (and heavily scripted) world of pro wrestling, no one can say that it isn't entertaining. Having emerged from humble beginnings at the turn of the 20th century, including its run in the '20s as something of a sideshow during traveling carnivals throughout the United States, the sport's popularity exploded thanks primarily to the emergence of television in the early '50s.
After a steady decline in its broadcast exposure in the '60s, wrestling's TV profile would soon grow in the '70s and '80s thanks to the industry's next innovation – cable. Now, with the success of the WWE (World Wrestling Entertainment), and the prominence of the web and social media outreach, pro wrestling continues to gain new followers worldwide.
Yet, for all the innovations mainstream pro wrestling has achieved thanks to TV and the internet, it's still a sport dominated by males. As a result, female wrestlers have been all but overshadowed in the industry thanks to seemingly pre-scripted, pre-determined matches and the fact that many of the current female stars are exploited primarily for their sex appeal and not their physical talents.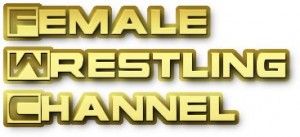 Furthermore, mainstream pro wrestling is a billion dollar business, and despite its enormous popularity it's not necessarily a sport that involves the fans in its daily management decisions. Now, there's an online wrestling channel that achieves both objectives effectively and in a variety of ways.
Having launched on February 23, 2012 with its first of approximately 50 bouts on its official web site that launched the following April (see link below), The Female Wrestling Channel seeks to dispel the negative stereotypes that have been attached to women in wrestling by emphasizing the physical strength and talent of its roster of stars as opposed to merely objectifying them.
Viewers can join the network for full access to its matches for just $9.99 a month (or $99 a year), with downloads of individual episodes of both matches and extra content (FWC Extra, more on that later), ranging from $5 to $20 depending on length. Subscribers of the channel's newsletter get a monthly 50% discount coupon with each purchase or membership.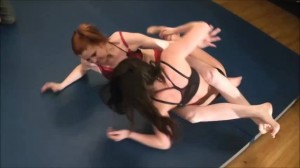 Led by its founder, Johnny Ringo, the network has achieved that goal in spectacular fashion by taking a refreshing approach to the sport itself that's unlike any portrayed on TV or the web; one that heavily involves the viewers in its operations and in its overall success.
"The Female Wrestling Channel seeks to serve two primary purposes. One: showcase our females and make them the number #1 priority in our productions and day to day operations. (You will never see male vs male). Two: 'real' female wrestling.  On the mats. No bulky, oversized ring, no writers in the back deciding who wins and loses," he says.
Adds Ringo: "We have an ongoing story, with characters, but the story is not predetermined like the stuff you see on TV," he says. "Thus, we intermix a lot of real life elements into 'the story' and we have no idea where it will ultimately end up or how it will ultimately end. Since the viewers can influence the storyline itself, as well as our own ladies creatively, there is just very little way to predict what is going to happen much like what can be done in rival sports."
Ringo appears in each episode of the FWC, but the main attraction is a collection of wrestling stars who have become instant fan favorites due to their incredible athletic ability; a group that comes from diverse personal and professional backgrounds. Among them is Monroe Jamison, Ringo's real life girlfriend (as well as in the show's overall storyline), and the FWC's biggest star. Other fan favorites range from the young (19 year olds Scarlett Squeeze and Catalina Boss) to the mature – 30 year olds Jamison and Ashley Wildcat, the latter also emerging as one of the FWC's increasingly popular wrestlers.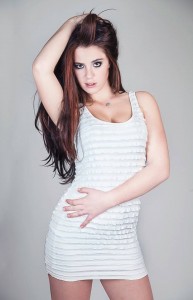 All of them have incredible physical skills and toughness, and despite their age differences, Ringo knows the opportunities for on-screen fireworks are many. "All kinds of neat dynamics are created here. A lady recently inquired who was 42 years of age. The potential for creativity is high with a production like this because you simply take what is real and you build a little bit of antagonism around a subject and let them go. It can be literally anything."
However, unlike traditional wrestling where the outcome of each match is heavily written and determined long in advance, FWC allows no such scenario. "For the integrity of the show, I always vow not to let them win," Ringo says.
Along with its online presence, The Female Wrestling Channel reaches out to its viewers in several innovative ways: supplemental content such as FWC Extras where audiences can see their favorite wrestlers duke it out in a heavily scripted setting. It's also a feature where fans can pick just what stories the wrestlers will be playing out, or what moves they want them to execute. Yet, as Ringo explains, that's only the beginning of what he hopes will be an even greater outreach that will transcend the limits of the web.
"In the near future, when I deem my roster 'event ready' we will be doing shows at various places, and sometimes, we will be going straight to our own customer's homes.   Publicity stunts may be commonplace as we might just set up in the middle of a busy park and just start wrestling and shooting to draw crowds," he adds.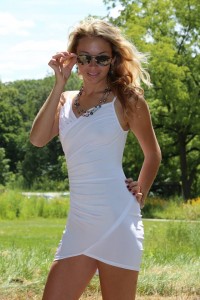 One way that Ringo has explored that outreach also adds to FWC's distinctiveness as a company. "I bought my own crowd funding software for what we are dubbing as 'Fan's Choice' matches. Do you have a wife, girlfriend, lady you know, famous lady you know, that would like to come and take on one of our female wrestlers for profit, charity, or to promote your cause or business? They can set whatever price they want, but it's the 'Fan's Choice', on whether it happens or not, as the match won't happen unless the funds laid out for the given matchup are completed," Ringo says. (For more information on how you can get them involved, visit the link at the bottom of the page.)
However, he hasn't ruled out other forms of crowd funding. "We will be using crowd funding for other projects as well, but sparingly," he says.
In addition to public appearances and live matches, Ringo will also be adding a new element to the channel that's now commonplace in mainstream pro wrestling; one that will also continue to involve its growing audience. "We plan on introducing PPV in 2014, and this will give fans the ability to tune in and watch each episode live as it's being filmed and see all of the backstage stuff, the personalities, and everything that goes into it. We will be using the PPV for many other applications as well including live interviews, broadcasting from live events, and even for late breaking news or announcements," he says.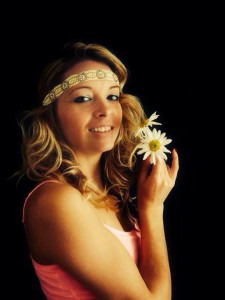 Ringo created The Female Wrestling Channel out of a building frustration with the lack of prominence and over-objectification of females in pro wrestling, as well as matches that were all too predictable in their outcomes.
With its roster of talent brought together from various sources like Facebook, the Model Mayhem network, and through Ringo's real life friendships, the channel's wrestlers do more than just possess beauty.
They possess strength, smarts, and skill, and along with matches that will keep viewers on the edge of their seats, it's those qualities Ringo hopes to display above all others through the FWC.
"Female beauty, in my view, is to be worshiped. I love beautiful women, women love (or hate) beautiful women, and nature loves it as well. I'm not going to get into arguments of morality, but we can do a lot of good with the beauty and talent these women possess if they can get past the negative detractors who will try to pull their impressionable minds into their 'own' warped world of morality. I will not allow for it anytime I have the power. These are women of power, and the ones who embrace it will be unstoppable, I assure you."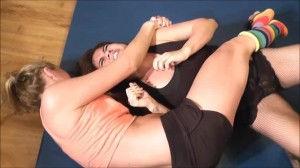 FWC's emphasis on raw, primarily unscripted competition without the trappings of a packed arena under the glare of TV is just one of many factors that set it apart from wrestling shows that most viewers are already accustomed to. For Ringo, those elements feature heavily into the show's production from concept to completion.
"Generally, I try to write a script. Most of the time, the ladies have a good sense of where their characters are at currently, so depending on the skill level of the girls involved, some times we go from a script, and sometimes we just let them ad-lib things. We do things out of our apartment, so we move the living room around every episode. We get the lights set up, any additional things we need scene wise, and then we prepare the girls before we begin," he says.
Match coverage is also produced in a manner that's up close, personal and in your face, and though it may reward the viewer at home, producing that coverage is quite a punishing task for Ringo. "Currently, I do everything with a single camera, and cover the action in ways most producers do not. Some fans like this style, and some do not, but I'm very sore after every episode because I literally jump around the mat like a monkey trying to get the best possible angles and action for the fans who will be watching the episode."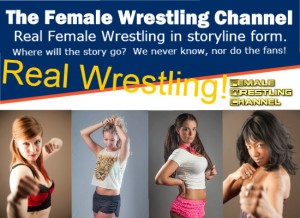 Along with talented wrestlers who demonstrate raw power, skill and talents, plus a production style that gives fans a closeup view of the action, FWC brings fans even closer to the stars they enjoy – but only if they conduct themselves respectfully.
"Fans can pay to interact with the ladies face to face on Skype, they can send them messages on their Facebook fan pages and emails that generally get responded to if the fan is not making an ass of themselves. As soon as they do, we cut them off. I don't have time for that crap, nor do my ladies. Our primary product features real wrestling, female vs female, sometimes, even male vs female."
In addition to one on one social media interaction with FWC's wrestlers, a select few can have their names immortalized as part of its history during the company's championship events. For $250, 8 lucky fans will be able to contribute to the Female Wrestling Channel Competitive Championship Belt, which Ringo hopes to introduce later this year. (Note: this is a first come, first served offer and supplies are extremely limited).
"4 of our best fans (part of the FWC's 'Legacy 12') paid to have their names on the belt, and we have competitive tag belts coming as well and there are only a few spots left for your name or company to be on them and then it's closed forever."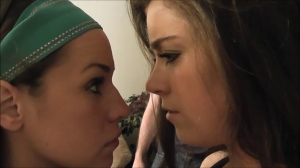 No matter how fans contribute, though, one thing is for certain: FWC has already achieved its greatest success in bringing them a product that's unlike any ever seen in the world of pro wrestling.
Though its profile may be smaller than that of the WWE and other larger promotions, it's definitely growing and will definitely appeal to fans who not only enjoy the sport but also those who are looking for an antidote to the heavily objectified portrayal of women in the sport of pro wrestling.
Yet, Ringo hopes that FWC will benefit the people who will most benefit from its success: "What I really want is for the ladies who become a part of this to be able to use the Female Wrestling Channel as a vessel to their wants and desires. Ultimately, they are really the main people I care about in the world and their needs are paramount to everyone else's needs no matter who likes it or loves it. So what they ask for, that I can provide, they will receive. Without them, this is not possible. No need to tell me twice. For our fans, I want to give them the best of what we have, anytime we can do it.  In the end, if we bring competitive female wrestling a bit closer to the mainstream, and public consciousness, than we have done our job. If we don't, we still did our job, so all is well."
Note: The channel's video content is not currently closed-captioned, but Ringo says he's working to add that feature to each video soon.
ON THE WEB: http://www.femalewrestlingchannel.com/snobbyrobot
For more information on how you can sign up for a "Fan's Choice" event, visit:
http://www.femalewrestlingchannel.com/challenge
To subscribe to the FWC's newsletter, visit:
http://www.femalewrestlingchannel.com/updates
FACEBOOK: http://www.facebook.com/femalewrestlingchannel
TWITTER: https://twitter.com/femwreschannel
DAILYMOTION: http://www.dailymotion.com/femalewrestlingchannel