Starting a new job can be hectic, especially when it's a job that you've never done before. Making it even worse is the prospect of transitioning from a familiar line of work to one that's even less so.
Such is the dilemma presented to a group of space soldiers in the new comedy web series SURVEY TEAM SEVEN, written by and co-starring Andrew Boyd, David van den Berg and J.P. Allen under Boyd's Enchanted Forge, LLC production company. The series' 4 episode first season is now streaming on its official web site and Youtube pages (see links below).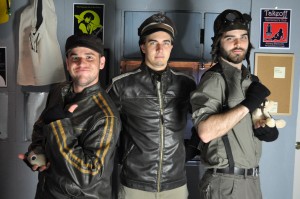 SURVEY TEAM SEVEN stars van den Berg as Ignatius Ryan, the beleaguered, yet dedicated captain and scientist of the Allerion Federation's spaceship Argon.
While their original duties of spreading wartime propaganda have now ended, they've now been reassigned to a special survey team that's dedicated to finding new resources in the post-war landscape of outer space.
Unfortunately, Ignatius is stuck working with a crew that's anything but dedicated. Their new job proves to be even more of a challenge as Ignatius, fun-loving engineering expert and ship pilot Dax Abernathy (played by Allen), plus the crew's more trustworthy weapons specialist Lachlan Gage (played by Boyd), find themselves in the middle of an unexpected political war they never anticipated.
Not only does Ignatius have to cope with a totally inept crew, but he also has a strained relationship with his family. That relationship grows even more tense when Ignatius' sister and senator of the Allerion Federation, Olivia (played by David's sibling Olivia van den Berg). arrives on the spaceship to ask that he give up his claim to the family inheritance; a request sought by Olivia's reclusive father.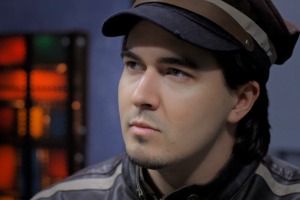 Making things even more complicated for Ignatius is the secret, suspicious relationship Olivia and her father carries on with the AFS Argon survey's leader, Commodore Winger (played by David and Olivia's real life grandfather, David Mattson).
There's also the looming threat presented by the villainous Iron Fists, led by Bertrand Degas (voiced by King van den Berg), who finds himself charged with the task of removing any complications Ignatius presents along the way.
For Boyd, his longtime aspirations of being a filmmaker, combined with the prospect of working alongside people he knew and loved, were the driving forces behind SURVEY TEAM SEVEN's creation. "Everyone involved wanted to show what they could do to enhance their individual portfolios, but we also wanted to have fun and share in a once in a lifetime experience with close friends and family," he says.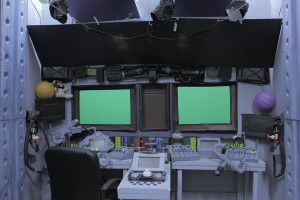 While Boyd compares his series to another popular space comedy in SPACE JANITORS, he feels that SURVEY TEAM SEVEN is much different than most web series targeted toward the geeky crowd for two main reasons.
"I like to think the originality of the world we built, and the clever use of one small space to tell a far reaching story makes SURVEY TEAM SEVEN fairly unique among its web series contemporaries."
That being said, the production of SURVEY TEAM SEVEN's four episodes didn't come without challenges. In fact, the biggest difficulty Boyd and his team faced came before cameras were set to roll.
"We wanted to tell an exciting story, but we knew locations would be a challenge so we thought of making the whole show set on one spaceship," Boyd recalls. "Once those parameters were set, we came up with a story and world to fit with 'three dudes in space going on an adventure'."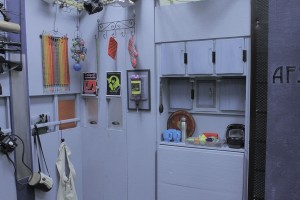 The spaceship scenes were filmed inside Boyd's small studio, which itself is located in an office building. Although the main storyline and characters were set, Boyd found that the process of getting SURVEY TEAM SEVEN from the page to the screen was quite the learning experience.
"With such a small crew, I had to learn many facets of production to make our dreams a reality. Building the space ship to fit in one small room was its own lengthy challenge," Boyd says.
Nevertheless, Boyd and his team continued to perfect every key aspect of the series' four episodes throughout the shoot. "Getting the cinematography, sound, and writing to a professional level led to rewrites and reshoots, but also a product we could be proud of," he remembers.
While the on-set aspects of production had plenty of difficulties, the trickiest part of SURVEY TEAM SEVEN's path from script to screen took place in the editing room. Adds Boyd: "Post-production took me longer than I care to admit. Between the editing and special effects, these four short episodes turned into a massive undertaking."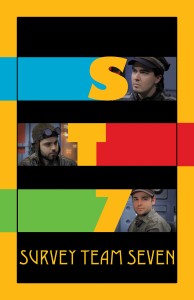 Through SURVEY TEAM SEVEN, Boyd's goal of creating a quality web series that exhibits the best talents of its actors and crew has already been achieved. Yet, he says, there's still plenty of room for its story, characters and production team to grow should there be a season 2.
"I wanted to lay a strong foundation in order to provide the show with the best chance of growing into a success," adds Boyd. "Artistically, I think that everyone involved accomplished what we set out to do under the agreed parameters, but the world still has great opportunity for further development."
Amid all the hilarious comedic situations and exciting action that's featured in each episode of SURVEY TEAM SEVEN, Boyd believes that one major theme remains constant throughout: the quest to find your own self-worth. It's a theme that's personified through its brave, yet troubled main character, and his mission to save the galaxy.
"Our protagonist, Captain Ryan, is very belittled during the entire series. He has a commanding officer that thinks nothing of him, a family that actively disowned him, and a crew that doesn't seem to respect him," says Boyd. "Yet still he has this drive to make himself into the person he believes himself to be, and through that effort he takes a meaningful stand against the forces that seek to undermine him."
(Note: Boyd says that each episode of SURVEY TEAM SEVEN is closed-captioned.)
ON THE WEB: http://enchantedforge.com (Enchanted Forge Productions' official web site)
YOUTUBE: https://www.youtube.com/user/enchantedforge
FACEBOOK: https://www.facebook.com/surveyteamseven