Millions of people all over the world have enjoyed many assorted productions of Broadway's greatest musicals and plays. Adding to their legendary status is the unforgettable performances of some of the greatest singers and actors ever to grace the stage. Of course, none of those classic performances and stories could have ever been made possible without the vision and talent of producers, writers, musicians and directors.
For fans of those classic shows, the new Stage17 unscripted series FAN FARE brings together, through free-wheeling, insightful and highly entertaining roundtable discussions, many of the talented performers and behind-the-scenes creatives who made some of Broadway's most iconic moments possible. Each episode brings fans closer to those legendary stars, songwriters and producers, who also share their own personal on-stage and backstage memories.
Taped at legendary New York restaurant Sardi's, the series' first four episodes are currently streaming on Stage17.tv. Hosted by Sirius/XM radio host Julie James, and produced by Jon-Erik Goldberg, FAN FARE (also streaming on Youtube) features roundtable discussions devoted to two of the most fondly remembered Broadway musicals ever staged: FIDDLER ON THE ROOF, and JEROME ROBBINS' BROADWAY.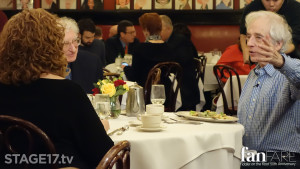 Among those participating from JEROME ROBBINS' BROADWAY are original cast members Robert La Fosse, Mary Ann Lamb, Faith Prince, Debbie Gravitte (Best Actress Tony winner for that production), and co-director Grover Dale.
Among the guests on hand to discuss their memories of FIDDLER ON THE ROOF are original cast members Austin Pendleton (who portrayed the tailor, Motel) and Joanna Merlin (who played Tevye's daughter Tzeitel), plus Tony-winning lyricist Sheldon Harnick, the only surviving member of the play's original production team.
Together, those guests have won a combined total of 2 Drama Desk Awards (7 nominations) and 6 Tony Awards (18 nominations). Future episodes and guests will be announced soon.
Recently, I spoke with Goldberg about how FAN FARE was developed, how the series will benefit Stage17 as a network. Most importantly, we also discussed how each episode will benefit legions of devoted Broadway fans who seek to get closer to the stars they love, while bringing them an inside view of what it took to bring their favorite shows to the stage.
What can viewers expect to see when they watch FAN FARE? Describe a typical episode.
On a typical episode, Julie James will start off the show by posing a question to the guests. From there the conversation will flow organically with Julie chiming in periodically with comments or new questions. Eventually lunch is served and the talk continues. No one receives any questions beforehand and no responses are planned. It is truly a long-awaited reunion being captured on camera.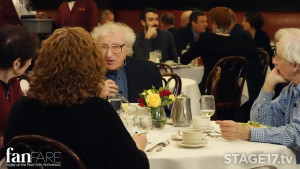 How was the show developed?
When I joined Stage17, the company was barely more than a brilliant idea. In those first few weeks, my co-producer Jacob Pinion and I were tasked to create shows to add to the early programming.
The idea of FAN FARE came to me right away. I love history and showbiz, so why not put them together somehow? And being a performer for many years, I knew that gathering old friends together in a comfortable setting without an audience would allow for more candor.
How will it benefit viewers, especially those who love Broadway?
FAN FARE is a series that can be be appreciated by almost everyone and loved by just as many. The benefits to the Broadway-lover are clear. There's a pervasive need in our culture to know as much as we can about celebrities. Some are more deserving of that attention than others. On FAN FARE, we get to know a little more about our celebrities and they most certainly deserve the respect and admiration we have for them.
The memories they share are heartfelt, touching and often very funny. As an audience, we don't want their stories to end. For the viewer who is not as versed in theatre, FAN FARE plays out like a mini-documentary, filled with interesting facts and gossip which lead to a better understanding of the production and the people who created it.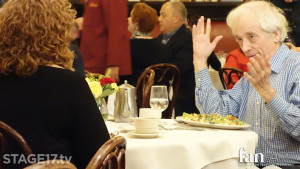 How does such content benefit Stage 17?
Stage17 bridges the gap between traditional theatre and digital media. What type of show could support that statement more than FAN FARE?
Bringing that Broadway enthusiast to Stage17 through our series will introduce them to a new digital world of theatre where the stage is always under your feet no matter where you are.
What (if anything) sets FAN FARE apart from other shows, especially on Stage 17?
The content on Stage17 is quite diverse in the best of ways. We have comedies, reality programming, even other interview shows, but no other series is like FAN FARE. I think what sets it apart is that while everyone is creating shows that are trying to be current or forward thinking, FAN FARE looks to the past and celebrates it.
What are your overall hopes for the show's success? 
My hope is that FAN FARE gets viewed and shared around the world. I want people of all ages, backgrounds and interests to fall in love with these phenomenal artists and most importantly, to go see theatre!
ON THE WEB: http://stage17.tv/series/fan-fare
To watch the first 2 episodes of FAN FARE on Youtube, visit: